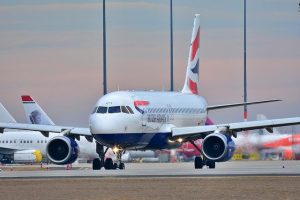 In The United States, the Federal Aviation Administration (FAA) uses specific terminology to classify airplanes by weight. One of the most classifications for commercial airplanes is "heavy." Being that all airplanes are heavy, though, the term is somewhat confusing. If you're still trying to grasp the concept of heavy airplanes and what, exactly, this term means, keep reading.
Heavy Airplanes Explained
A heavy airplane, as classified by the FAA, is any airplane with a maximum takeoff weight of 300,000 pounds or more. If an airplane has a maximum takeoff weight of 300,000 pounds or more, it's classified as a heavy airplane.
When approaching a runway for landing, pilots of heavy airplanes will relay the heavy classification of their airplane to the air traffic controller. This is designed to help air traffic controllers determine a safe landing zone. If an airplane is heavy, it will create greater wake turbulence. Therefore, air traffic controllers may request that other pilots give the heavy airplane additional space while it lands.
What Is a Super Airplane?
A super airplane, on the other hand, is any airplane with a maximum takeoff weight of 1,410,000 pounds or more. Of course, super airplanes are less common than their heavy counterparts. There are currently only a few super airplanes in operation, some of which include the Airbus A380 and the Antonov AN-225. With their extremely high maximum takeoff weight, they create even more wake turbulence than heavy airplanes. As a result, air traffic controllers must identify incoming super airplanes.
Other FAA Classifications for Airplanes
In addition to heavy and super, other weight-based classifications for airplanes used by the FAA include small and large. As you may have guessed, small airplanes are the lightest classification used by the FAA, whereas large airplanes fall somewhere between small and heavy. It's important to note, however, that most pilots and air traffic controllers only use the heavy and super classifications. Small and large airplanes don't produce nearly as much take turbulence, so they generally aren't a concern.
To recap, a heavy airplane is any type of airplane that has a maximum takeoff weight of 300,000 pounds or more. The FAA uses this classification to assist air traffic controllers with guiding airplanes for landing. Heavy airplanes have a high maximum takeoff weight, so they produce a significant amount of wake turbulence. To ensure a safe landing, pilots will convey their heavy airplane's classification to the air traffic controller.