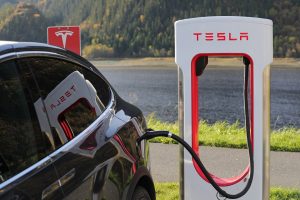 With an average weight of about 77,000 pounds (35 metric tons), the Boeing 787-9 Dreamliner isn't light, nor is it easy to tow across the runway. However, that didn't a top Tesla Model X from pulling the long-haul, mid-size widebody airliner — a feat that was captured on video.
It's important to note that the 787-9 Dreamliner actually weighs less than many mid-size widebody airliners, in part because of its composite construction. The 787-9 Dreamliner is one of the first commercial airliners to feature a composite fuselage, composite wings and other composite components. It's made of about 51,000 pounds of carbon fiber, offering the perfect balance of strength, ductility and lightweight construction. Nonetheless, towing a 77,000-pound airliner across the runway is impressive, especially when it's a car pulling the airliner.
The Australian airline Qantas Airways recently uploaded a video showing one of its 787-9 Dreamliner being pulled down the runway by a Tesla Model X. Not only is it an awe-inspiring video, but it actually helped Tesla secure a spot in the Guinness World Records for the highest tow by an electric passenger vehicle.
According to the video description, this has never been done before. "Never has a passenger airliner been hitched to an electric passenger vehicle for towing. Well at least until today. On a remote taxiway at Melbourne Airport, a Tesla Model X P100D with the greatest pulling power of any electric passenger vehicle came face to face against the newest star of the Qantas fleet, a Boeing 787-9 Dreamliner," wrote the video description.
Statistics show that the Tesla Model X has a towing capacity of roughly 4,980 pounds. To put that number into perspective, the 2018 Ford F-150 — one of the hottest-selling pickup trucks on the market — has a comparable towing capacity of 5,000 to 8,000 pounds. Of course, the Model X is a crossover SUV, whereas the F-150 is a pickup truck.
Video: 787-9 Dreamliner Being Towed by a Tesla Model X
So, what's the purpose of this feature? It's doubtful that Qantas Airways nor any other airline will use the Model X for taxing their jets across the runway. Rather, this stunt was likely done for publicity purposes. Even if the video was published for publicity purposes, though, it still reinforces the brand integrity of both Boeing and Tesla — two leading companies in their respective industry. Tesla continues to develop and manufacture some of the world's leading electric vehicles, while Boeing produces some of the world's best commercial airliners.