---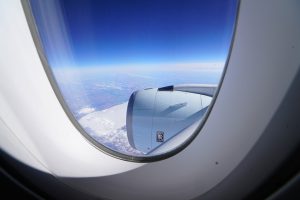 One of the nation's biggest airlines has conducted its first official flight with Airbus's massive A350 jet. On Tuesday, Virgin Atlantic debuted the A350 in a transatlantic flight from London to New York. Dubbed the Red Velvet, this is just one of a dozen A350 jets purchased by Virgin Atlantic. As a result, you can expect to see more A350 flights offered by Virgin Atlantic in the months and years to come.
Shortly before Virgin Atlantic's new A350 took flight from Heathrow Airport in London, England, airport officials tweeted the following: "Virgin Atlantic's first Airbus A350-1000 aircraft, G-VLUX, Red Velvet takes to the skies today for the very first time from Heathrow. Calling all #avgeek, their new tailcam offers every customer the best view outside!"
While flying all the way from London to New York nonstop isn't an easy feat — it's nearly over 3,400 miles long — the A350 was up for the task. Passengers aboard Virgin Atlantic's maiden A350 experienced an enjoyable and stress-free flight. Granted, it wasn't particularly short flight, but neither the crew nor passengers experienced any problems.
What is the A350 exactly? The A350 is a family of long-range, wide-body jets designed and manufactured by Airbus. According to Wikipedia, Airbus originally designed the A350 back in the mid-2000s using the A330's fuselage with new aerodynamics and engine options. Airbus experienced several setbacks with the new jet, however. It wasn't until 2015 when Qatar Airways conducted the first official commercial flight with the A350.
The A350 is available in several variants. The A350-900 variant, for example, is the smallest — weighing just 280 tons while seating a maximum of 325 passengers. The A350-1000, on the other hand, is the largest variant. In a traditional three-class layout, it's able to seat up to 366 passengers.
Virgin Atlantic is expected to receive deliveries of 11 additional A350 jets from Airbus. According to the well-known airline, it will use most of these massive jets for leisure destination flights, including routes to and from Florida and the Caribbean. Virgin Atlantic says the new A350 jets will replace its older Boeing 747 jets, which are gradually being retired and rolled out of service.
Of course, Virgin Atlantic isn't the only airline that has purchased the A350. Other airlines who've ordered the massive jet include Qatar Airways, British Airways and Cathay Pacific. As more and more airlines seek to include the A350 in their fleet, Airbus will likely have its hands full with manufacturing and delivering the new jets to its customers.