---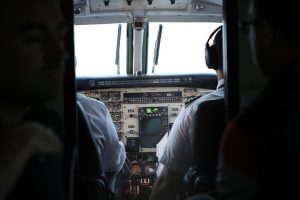 Qantas Airways has just completed the world's longest nonstop flight. On Oct. 18, the Australia commercial airline flew passengers from New York City to Sydney. While Qantas Airways has completed similar flights between these two cities in the past, this flight was unique because it was the first time the airline performed it without stopping. As a result, Qantas Airways used this opportunity to study how long-distance flights affect the behaviors and thinking of pilots.
The ultra-long-distance flight was part of Qantas Airways's Project Sunrise. For the project, the Australian commercial airline used an upgraded Boeing 787-9, which contains a laboratory where researchers could track pilots' health markers.
Being that New York City is nearly 10,000 miles away from Sydney, it shouldn't come as a surprise to learn that Qantas Airways's recent flight was particularly long. Clocking it 19 hours and 16 minutes, it was the longest nonstop flight in the history of commercial aviation.
Prior to the flight, Qantas Airways explained that pilots will wear an EEG that collects data regarding their brain activity. "Pilots will wear an EEG (electroencephalogram) device that tracks brain wave patterns and monitors alertness.  The aim is to establish data to assist in building the optimum work and rest pattern for pilots operating long haul services," explained Qantas Airways in a press release announcing Project Sunrise.
Over the course of the 19-hour, 16-minute flight, researchers monitored data collected by the pilots' EEG. The purpose of this study was to determine how exactly long flights affect the behaviors and thinking of pilots. The general belief is that the longer a pilot spends flying, the more exhausted he or she will become, which could lead to a higher risk of human error. To ensure the safety of their passengers, Qantas Airways launched Project Sunrise.
While the primary focus of Project Sunrise was to test how long-distance flights affect pilots, Qantas Airways also used this opportunity to determine the impact on passengers. During the flight, passengers wore electronic devices that tracked their health markers. Like the EEGs worn by pilots, these devices relayed data to researchers. Qantas Airways wants to use this data to improve the flight experience for its passengers, primarily by taking measures to minimize jet lag.
This isn't the end of Project Sunrise. Qantas Airways is expected to conduct two more test flights in the future, during which they'll monitor pilots to gain further insight into how long-distance flights affect the behaviors and thinking of pilots.