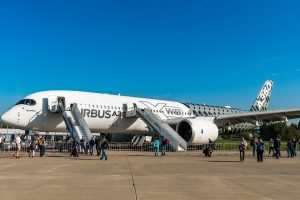 More and more commercial airlines are taking a proactive approach towards reducing their environmental footprint. This has prompted some of the world's biggest aerospace manufacturing companies, including Airbus and Boeing, to develop new, more efficient jets. Of all the commercial jets currently in operation, though, the A350-900 is often regarded as being the most efficient. Designed and manufactured by Airbus, it's a relatively new jet that first entered service in 2015 with Qatar Airways. Since then, the A350-900 has become a popular choice among airlines, primarily because of its superior level of efficiency.
What Is the A350-900?
The A350-900 is a long-range, twin-engine jet that's part of Airbus's A350 XWB family. As previously mentioned, it first took the skies back in 2015 with Qatar Airways. It's one of the three main variations of the XWB family, featuring a medium length with an emphasis on efficiency.
According to Wikipedia, the A350-900 has a maximum takeoff weight of 280 tons and seats about 325 passengers. Of course, it's most impressive feature is its fuel efficiency. When compared to the Boeing 777-200ER, the A350-900 is roughly 30% more fuel efficient. Airbus also says that commercial airlines can expect to pay about 25% less money to operate the A350-900 than the Boeing 777-200ER. Based on these figures, the A350-900 is one of the most efficient commercial jets on the market.
The Different A350-900 Variants
It's important to note that Airbus has several variants for the A350-900. The A350-900ULR, for example, is the ultra-long-range variant of the A350-900. While the standard A350-900 has a maximum fuel capacity of 37,000 gallons, the A350-900ULR can hold up to 44,000 gallons of fuel. And with a higher fuel capacity, it's able to fly longer distances without stopping. The A350-900ULR also has a higher maximum takeoff weight. It can take off with about 5 tons more weight than the standard A350-900.
What About the A350-1000
The A350-900 isn't the largest jet in Airbus's A350 XWB family. That accolade goes to the A350-1000. It's approximately 74 meters long, and because of its longer length, it's able to support up to 366 passengers.
Although it's longer and supports more passengers, the A350-1000 isn't as efficient as the A350-900. As a result, it hasn't generated the same "buzz" among commercial airlines. Nonetheless, Airbus has been actively selling the A350-1000 to airlines throughout the world. It first entered service on Feb. 24, 2019 with Qatar Airways. And while it's still a relatively new jet, there's strong demand for the A350-1000 as well other jets in Airbus's A350 XWB family.