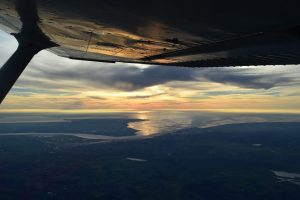 A new electric airplane has taken flight over Los Angeles, California. The airplane itself isn't anything new. Rather, it's a six-seat Cessna Skymaster. What makes it unique, however, is its engine. Unlike most other airplanes, this Cessna Skymaster features an electric motor, signaling a new era for aerospace manufacturers as well as airlines.
As reported by The Wall Street Journal, the all-electric Cessna Skymaster performed a test flight over Los Angeles last month. The project was led by the local startup company Ampaire, which plans to produce and sell the electrical airplanes in the near future. When speaking about the project, the company's co-founder and CEO compared the electric airplane to a plug-in hybrid car. And with the newfound popularity surrounding electric vehicles, the company believes there will be strong demand for its electric airplane.
"It's kind of like a plug-in hybrid car," said Ampaire co-founder and CEO Kevin Noertker. "We are really riding the coattails of ground electric vehicles here."
It's important to note that Ampaire's electric Cessna Skymaster still uses a combustion engine. There's actually two engines in the small airplane: a traditional combustion engine in the front, which is used to power the propeller on the nose, as well as an electric engine in the back, which is used to power the rear propeller.
Of course, electric airplanes were a hot topic at this year's Paris Air Show. Over a dozen companies at the annual aviation event announced plans to develop an electric airplane, one of which being Ampaire.
Electric airplanes could prove game-changing for airlines. One of the biggest operating expenses associated with flying is fuel — and commercial airplanes burn a lot of fuel. By switching from combustion to electric engines, airlines could significantly reduce this expense. Furthermore, electric airplanes are environmentally friendly. Unlike combustion engines, electric engines don't produce environmentally harmful emissions like carbon dioxide. They are completely clean and safe for the environment.
There are still some restrictions with electric airplanes. Electric airplanes, for example, aren't able to fly as long as traditional combustion engine-powered airplanes. In an interview, Noertker said that Ampaire probably won't be able to fly passengers across the ocean. His company will, however, be able to fly passengers 500 miles or less in the near future.
While Ampaire is still developing its six-seat electric airplane, the California-based startup has already secured 50 orders for it.