---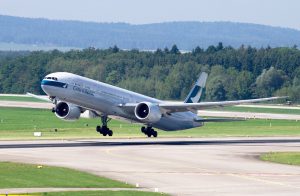 Two of the world's leading commercial airplane manufacturers have invested in  Zunum Aero, a small company with big plans to develop a hybrid gas/electric-powered jet. This isn't just any ordinary hybrid, however. According to reports, it's capable of traveling for up to 1,000 miles, all while selling at an affordable price.
Zunum Aero was founded in 2013. The company plans to produce several different jets, ranging in seat capacities from 10 to 50. Some of the jets will feature a range of 700 miles, though its hybrid is expected to travel even longer at 1,000 miles. Zunum Aero says its hybrid jet will be complete by 2030.
So, what benefits does a hybrid gas/electric jet offer? For starters, it uses less fuel, offering cost-savings benefits to the respective airline. However, other benefits associated with hybrid technology include less noise, lower emissions, and the ability to takeoff and land at smaller airports.
"The shift of the industry to large aircraft and long ranges driven by gas turbines has concentrated almost all air traffic to just two percent of our airports, creating a massive transport gap over regional distances where there is no high-speed alternative. As a result, door-to-door times for most journeys are no better than they were 50 years ago," said Ashish Kumar, CEO and founder, Zunum Aero. "Hybrid propulsion is an industry-changing solution, enabling mid-sized aircraft on regional routes to have better cost efficiencies than airliners."
In a press release Zunum Aero explained that it's upcoming gas/electric hybrid jet will "take aviation into the future" by enabling service to the nation's some 5,000 regional and general airports. This is presumably because of its small size, which is a characteristic of its hybrid engine technology. With a hybrid engine, the upcoming Zunum Aero jet features a smaller design, allowing it to squeeze into smaller airports throughout the country. This alone is a huge benefit that's sure to attract buyers.
The company also released some interesting statistics regarding the new jet. According to Zunum Aero, its new hybrid jet operates with a 40% lower door-to-door travel time in busy corridors, and up to 80% less in high-traffic corridors. It also flies with a lower operating costs, allowing for 4o to 80% cheaper fares. Furthermore, it creates 80% less emissions, which surprisingly drops to zero as the battery densities improve. And lastly, it produces up to 75% less noise, making it an attractive choice for smaller airports.
What do you think of Zunum Aero's upcoming hybrid jet?