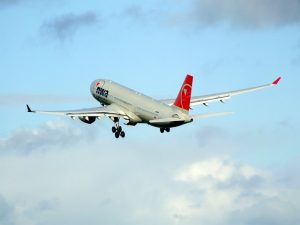 Airbus's latest wide-body airliner has officially entered service. In October 2020, the European aerospace manufacturing company delivered two of its A330-800neo jets to Kuwait Airlines. Since adding Airbus's new wide-body airliner added to its fleet, Kuwait Airlines has used it in routes taking passengers from Kuwait City to Dubai.
What Is the A330-800neo?
The A330-800neo is Airbus's answer to the Boeing 787. Like the Boeing 787, it's a wide-body jet that's designed specifically for use among commercial airlines. Airbus began working on the A330-800neo in 2014, with production beginning the following year. By the end of 2016, Airbus had completed its first A330-800neo.
The A330-800neo features a similar fuselage as Airbus's A330-200. Both the A330-800neo and A330-200 are the same length, Nonetheless, the A330-800neo can accommodate six more passengers than the A330-200.
The A330-800neo is available in several engine options. When designing the wide-body jet, Airbus considered engines from Rolls-Royce and General Electric. Airbus ultimately chose the Rolls-Royce Trend 7000 as the primary engine, though it offers other engine options from which commercial airlines can choose as well.
A330-800neo vs A330-900neo: What's the Difference?
Airbus has also developed the A330-900neo. Both the A330-800neo and the A330-900neo are members of Airbus's "New Engine Option" family. There are a few differences between the two wide-body jets, however. The A330-800neo, for instance, has a maximum range of approximately 8,150 nautical miles, whereas the A330-900neo has a maximum range of approximately 7,200 nautical miles. The A330-900neo is also more efficient than its counterpart. It features a new and improved seating configuration that promotes greater fuel efficiency.
Kuwait Airlines Orders 8 Units
Shortly after releasing the A300-800neo, Airbus received an order for eight units from Kuwait Airlines. Airbus delivered two of these eight units to Kuwait Airlines in October 2020, and it plans to deliver the remaining six units in the coming months.
Kuwait Airlines isn't Airbus's only customer for the A330-800neo. Several other commercial airlines have agreed to buy Airbus's latest wide-body airliner. With that said, Kuwait Airlines was the first of Airbus's customers to receive the A330-800neo, which it has since begun operating in its fleet.
What's Next for the A330-800neo?
The A330-800neo is still in its early stages of being rolled out, so it has plenty of room to grow. As of October 2020, Airbus has built approximately 52 units for customers such as TAP Air Portugal, Delta Air Lines, Lion Air, and of course, Kuwait Airlines. With its combination of performance and efficiency, however, the sky is the limit for Airbus's A330-800neo.