---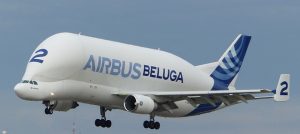 Airbus's massive BelugaXL cargo jet has entered service. Just a few months ago, the BelugaXL received European Aviation Safety Agency (EASA) certification. Now that Airbus has the green light from aviation regulators, it's using the first of its BelugaXLs to transport cargo on behalf of its customers.
What is the BelugaXL exactly? As shown in the image to the left, it's a cargo jet designed and manufactured by the European aerospace company Airbus. It's based on the A300-600T — or what's more commonly known as the Beluga. The original Beluga is a modified A300-600 jet that's designed for cargo transport. Airbus launched the original Beluga in the mid-1900s. It appears that Airbus is looking to replace the Beluga, however. The new BelugaXL lives up to its namesake by featuring an even larger design than its predecessor.
Airbus began development on the BelugaXL back in 2014 with the goal of replacing its existing Beluga cargo jets. You might be wondering just how much larger the new BelugaXL is compared to the original Beluga. According to Airbus, the BelugaXL offers approximately 30% more cargo space than its predecessor. The new jet measures approximately 63 meters long and 8 meters wide. Based on these specifications, it's the largest cargo jet in the world. Just a single BelugaXL can carry up to 51 tons of cargo at a range of approximately 2,2000 nautical miles.
While it's incredibly large, the BelugaXL is also fast. It's expected to operate at speeds of roughly Mach 0.69, and as previously mentioned, it has a distance of 2,200 nautical miles. To put that number into perspective, the original Beluga only has a range of 900 nautical miles. Other notable specs for the BelugaXL include a maximum takeoff weight of roughly a half-million pounds, 78,000 cubic feet of cargo space, two Rolls-Royce Trent 700 turbofan engines and a service ceiling of 35,000 feet.
When speaking about the BelugaXL, Airbus explained that it enabled the "re-use" of existing aircraft components. "The BelugaXL is based on an A330-200 Freighter, enabling the re-use of existing components and equipment, and is powered by Rolls-Royce Trent 700 engines. The lowered cockpit, the cargo bay structure and the rear-end and tail were newly developed jointly with partners, giving the aircraft its distinctive look," wrote Airbus in a press release.
The BelugaXL performed its first operational flight on Jan. 9, 2020. In the following months, the BelugaXL is expected to operate in nearly 11 destinations throughout Europe.