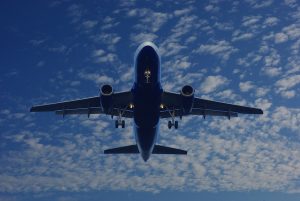 Airbus has just landed an order for 300 jets from Chinese airlines. Last week, the aerospace manufacturing company announced that China had ordered 290 A320 jets as well as 10 other, non-A320 jets.
Following news of Airbus's new deal with the Chinese airlines, the aerospace manufacturing company's stock price climbed just over 2%. So, how much revenue is this new deal expected to drive for Airbus? Neither Airbus nor China have disclosed the financial details pertaining to the order. With that said, the unit price for Airbus's A320 family of jets — including the A318, A319, A320 and A321 — ranges from $77.4 million to $118.3 million. Therefore, the order is likely valued at over $22 billion.
When speaking about the new order, Airbus's Guillaume Faury said Airbus is honored to support China's aviation industry by proving the countries airlines with single-aisle and wide-body jets. "We are honored to support the growth of China's civil aviation with our leading aircraft families–single-aisle and widebodies. Our expanding footprint in China demonstrates our lasting confidence in the Chinese market and our long-term commitment to China and our partners," said Guillaume Faury, Airbus's commercial aircraft chief executive.
The A320, of course, is a family of twin-engine, short- to intermediate-range jets designed and manufactured by Airbus. The aerospace manufacturing company first introduced the A320 family in February 1987 with Air France. Since then, the jets have become a key component of commercial airline fleets. To put the popularity of Airbus's A320 family into perspective, Airbus says it delivered over 8,600 A320 jets since originally introducing them in 1987, nearly all of which are still in service.
Airbus's latest addition to its A320 family is the A320neo. Short for "new engine option," the A320neo offers improved fuel efficiency thanks to its carbon frame, new engine and the presence of winglets. Statistics show that the A320neo is about 15% more fuel efficient than similar-sized jets on the market. As a result, it's become a top-selling product for Airbus. Last December, Airbus revealed that it has received orders for over 6,500 A320neo from roughly 70 different airlines worldwide. Airbus has received so many orders for the A320neo, in fact, that it's listed as the fastest-selling jet in the commercial aircraft market.
China was originally considering purchasing Boeing's 737 Max 8 jets. Due to the recent technical problems surrounding Boeing's new jet, though, it appears the country has selected Airbus instead. And now that the deal has been finalized, Airbus has an additional 300 jets to produce and prepare for Chinese airlines.