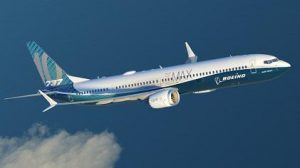 Virgin Australia has become the latest customer of Boeing's 737 MAX 10. Last month, the airline said that it was converting 10 orders for the smaller 737 MAX 8 into orders for the larger 737 MAX 10. Of course, Virgin Australia isn't the only airline to feature the 737 MAX 10 in its fleet of commercial aircraft. According to Boeing, more than 20 other companies have purchased the massive jet, signaling strong growth for the 737 MAX 10.
Boeing's largest customer of the 737 MAX 10 is United Airlines. The major U.S.-based airline converted 100 of its 160 737 MAX 9 orders into 737 MAX 10 orders. In 2012, however, Boeing has received just over 1,000 orders for the 737 MAX 9 (from all airlines). Fast forward to 2017, and Boeing received more than 4,300 orders for it. While there's still several months left in 2018, the aerospace manufacturer has already received more than 4,600 orders for the 737 MAX 9.
The 737 MAX 10 is the largest jet in Boeing's 737 MAX line. Boeing designed the 737 MAX 10 to directly compete with Airbus' A321neo, which also boasts a large size. However, Airbus has experienced stronger sales with the A321neo than Boeing has with the 737 MAX 10. When the two jets were launched, the A310neo outsold the 737 MAX 10 by a ratio of almost five to one. But Boeing has been working aggressively to improve the 737 MAX 10.
In 2016, Boeing created a new variant of the 737 MAX 10 that featured additional fuselage sections. Just one year later, the aerospace manufacturer unveiled a 230-passenger variant of the 737 MAX 10. The standard 737 MAX 10 purchased by Virgin Australia is touted as offering the lowest operational costs of any commercial jet. Boeing says that it's able to fly 200 miles farther than current 737s on the market. And with its longer range, the 737 MAX 10 can effectively handle 99% of all single-aisle commercial flights.
"We are excited to expand our partnership with the Virgin Australia Group as they look to introduce the 737 MAX 10 in to their world-class fleet," said a Boeing executive. "The MAX 10 will provide the airline with added capabilities, especially with the extended range and efficiency, to better support their fleet and network."
Most people in the United States probably aren't familiar with Virgin Australia. Nonetheless, it's a major airline — particularly in Australia. After Quantas, Virgin Australia is the country's second-largest airline. The company was originally formed under the brand name Virgin Blue in the late 1990s. Today, it now serves customers in more than two dozen cities throughout Australia, ranging from Brisbane and Sydney to Melbourne and more.