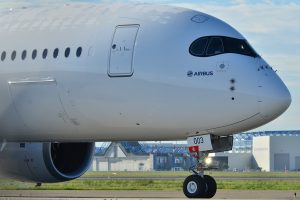 The next time you fly Virgin Atlantic, you could be seated on the airline's new Airbus A350-1000 jet. Earlier this month, Virgin Atlantic revealed some key features of its new A350-1000 jet. Known as the Red Velvet, the long-range jet will provide passengers with an unparalleled level of comfort and luxury.
According to Virgin Atlantic, Red Velvet will feature several state-of-the-art upgrades. All passengers, for example, will have access to high-speed Wi-Fi, which they can use to connect their mobile devices to the internet. In the upper class section of the jet's cabin, passengers will have access to Bluetooth wireless headphones that are automatically paired with 32-inch high-definition TVs. Furthermore, all seats in the upper class section are located near windows, ensuring that all passengers get a breathtaking view when flying aboard Red Velvet.
Red Velvet even features a full-service bar with lounge area. Known as The Loft, it's said to the largest gathering space in all of Virgin Airline's fleet.
"The introduction of our A350 represents a true evolution of our customer experience," said Virgin Atlantic Executive Vice President Mark Anderson in a press release announcing Red Velvet. "We believe flying should be exciting, whether it's your first or 100th flight with us and that's why we've elevated our offering to provide our customers with something totally unique."
Airbus first began working on the A350 project back in 2004. However, it wasn't until over a decade later when it received certification from the Federal Aviation Administration (FAA) and the European Aviation Safety Agency. In 2015, Qatar Airways became the first carrier to purchase and fly the massive jet.
Of course, the A350 is available in several variants, some of which include the 900, 900ULR and 1000. Of those variants, the 1,000 is the largest. Specs show that measures nearly 74 meters long, with the ability to support up to 366 passengers in the standard three-class layout. Being a long-range jet, it shouldn't come as a surprise to learn that the A350-1000 is capable of flying long distances. In fact, last October the A350-1000 set a new world record for the world's longest flight, with the Airbus-manufactured jet the flying from Newark, New York to Changi, Singapore in just under 18 hours.
The introduction of Red Velvet will likely help Virgin Atlantic gain a stronger foothold in the commercial aviation market. The new Airbus-manufactured jet offers a world of luxurious features to create a superior level of comfort for long-distance flights.
Virgin Atlantic says Red Velvet will be included in its active fleet starting this summer.