---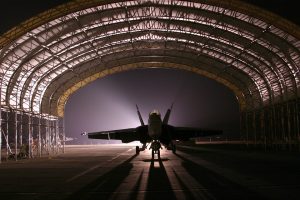 The United States Navy has placed an order for 12 combat aircraft to be produced by Boeing.
According to UPI, the exclusive contract calls for 7 EA-18G and 5 F/A 18E combat aircraft, as well as electronic attack kits to use with the aircraft.
First entering operational service in 2009, the Boeing EA-18G "Growler" is a carrier-based combat aircraft. More specifically, it's a specialized variant of the F/A 18F- Super Hornet. The new EA-18G is intended to replace the EA-6B Prowlers that is currently being used by the U.S. Navy.
One of the key features of the new EA-18G is its electronic attack system, which is provided by Northrop Grunman. For instance, three EA-18G networked together are able to track targets in real time by looking for radio frequency sources. The EA-18G features faster data links to overcome the Navy's existing low-strength signal detection systems. As Wikipedia explains, a group of three EA-18G work together by having one detect a signal, while the other two listen for the same signal. All three signals are then crossed referenced to measure the amount of time it takes for transmissions to travel to the aircraft.
The F/A 18E, along with the F/A 18F "Super Hornet," are twin-engine combat aircraft also designed for use on Navy carriers. They are variants of the F/A 18 Hornet, which is also a carrier-capable combat aircraft. The F/A 18E is a single-seat variant, however, while the F/A 18F features tandem seating.
According to various reports, the F/A 18E is also about 25% larger than previous generations of the combat aircraft. It also containers 42% less structural parts.
The new contract to produce 12 combat aircraft for the Navy isn't cheap. Reports indicate that it's valued at just under $679 million. The Naval Air Systems Command, Patuxent River, MD awarded the contract to Boeing, with the majority of the work to be done in the company's factories in El Segundo, CA; St. Louis, MO; and Bethpage, NY.
Boeing is expected to use the Navy's 2016 aircraft procurement budget to fulfill the order for 7 EA-18G and 5 F/A 18E combat aircraft.
Of course, Boeing isn't a newcomer to producing combat aircraft and other defense products. In recent years, Boeing has worked closely with the military to develop aerial refueling and transport aircraft. Just last year, the aerospace company scored a $2.8 billion contract from the Air Force to build 19 KC-46 tankers, as well as $2.5 billion contract from the Navy to produce 20 P-9 Poseidon aircraft.