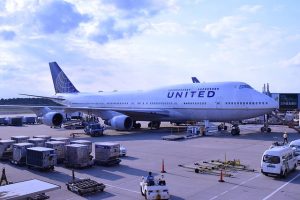 One of the country's largest commercial airlines has agreed to purchase over a dozen supersonic airplanes. Earlier this month, United Airlines revealed that it had ordered 15 Boom Overture planes from the startup Boom Supersonic. Boom Overture aren't your typical commercial airplanes, though. Rather, they are capable of flying at supersonic speeds.
About the Boom Overture
Developed by Boom Supersonic, the Boom Overture is a small jet-engine airplane that accommodates up to 65 to 88 passengers. Its origins can be traced back to 2016, during which Boom Supersonic launched the program. Since then, Boom Supersonic has been working to complete the Boom Overture.
Aside from its sleek design, the Boom Overture is expected to offer supersonic flight speeds. In other words, it will fly faster than the speed of sound — assuming all goes as intended. Boom Supersonic says that the Overture could support over 500 flight routes. With its supersonic capabilities, of course, it will offer faster flights than that of traditional commercial airplanes.
How Fast Is the Boom Overture?
Just how fast is the Boom Overture exactly? While details regarding its expected speed are still unknown, supersonic is defined as faster than 768 miles per hour. To put that number into perspective, a typical Boeing 737 flies at a speed of about 583 miles per hour.
The Boom Overture isn't just blazing-fast, however; it's environmentally friendly. It's touted as being the world's first net-zero emissions supersonic plane. This could make it a popular choice among commercial airlines, many of which have been exploring evnrionmentally friendly aircraft solutions.
United Airlines Purchases 15 Boom Overture Units
When speaking about the recent order, United Airlines CEO Scott Kirby explained that it will give passengers an amazing flight experience. "Boom's vision for the future of commercial aviation, combined with the industry's most robust network in the world, will give business and leisure travelers access to a stellar flight experience," said United Airlines CEO Scott Kirby.
While United Airlines has committed to purchasing 15 Overture planes from Boom Supersonic, it may not receive for quite some time. Boom Supersonic is still developing its environmentally friendly supersonic plane. According to the startup, it plans to begin testing the Boom Supersonic in 2026, with flights occurring several years later in 2030. Nonetheless, United Airlines has confidence in Boom Supersonic, as it recently committed to purchasing over a dozen of the startup's still-in-the-development Overture planes.