---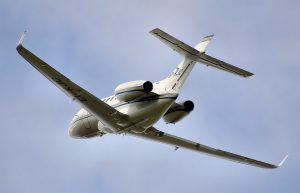 After dominating the on-demand ridesharing business, Uber is already looking to expand its operations, this time going high in the skies. The company recently announced plans to develop a fleet of electric vertical takeoff and landing (VTOL) aircraft, which will provide air-bound transportation services to individuals throughout the country and beyond.
According to a statement by the company, Uber's upcoming line of VTOL aircraft are actually based on the X-plane's design — a project by the Department of Defense. The planes are made by Aurora Flight Sciences, completing their first test flight on April 20. Uber says it plans to have at least 50 of them ready for operation 2020, which it will use to test the next branch of its business: on-demand plane transportation.
So, how will Uber's new VTOL planes work? Well, just like the company's current fleet of on-demand drivers work. Uber says its first fleet of VTOL planes will launch in Dallas and Dubai, where residents and travelers can "call" for pickup using their smartphone or mobile device. Assuming they have the Uber app installed, they can summon to be picked up by one of Uber's VTOL planes. The company says the planes will cost around $1.32 per passenger mile to operate, which is actually comparable to how much the company's UberX (premium) car services cost.
Aurora will actually work on designing the VTOL planes for Uber, while Uber works to build nearly half a dozen landing pads in Dallas.
Of course, this isn't the first time that Uber has teased with the idea of going into the skies. Recently, it unveiled plans to create a network of aircraft in a nearly 100-page report, explaining how the planes would offer a safer and quieter method of travel.
"Uber is taking a big step forward toward making the world's first VTOL network a reality and our partnership with Aurora Flight Sciences will help get us off the ground," said Mark Moore, Director of Engineering for Uber. "The Elevate VTOL network will help improve urban mobility around the world and transform the way we travel."
Uber isn't without competition in this vertical, however. Airbus is working on its VTOL taxi service, with a dedicated headquarters for the project set up in none other than Silicone Valley. AIrbus says it plans to develop a fully capable prototype by the end of the year, with a ready-to-launch design by 2020. Whether or not it meets these deadlines, however, remains to be seen.