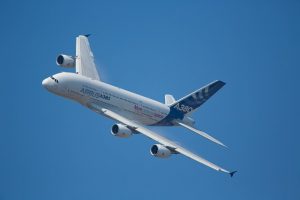 Airbus's A380 project is coming to a close. Last week, the aerospace company's final A380 jet completed its first flight during a trip from Toulouse, France to Hamburg, Germany. While this particular A380 — as well as many existing A380s currently in service — still have many years of life in them, this marks the beginning of the end for Airbus's A380 project.
What Is the A380?
Also known as the superjumbo, the A380 is a wide-body jet designed and manufactured by Airbus. With certification for up to 853 passengers, it's considered to be the world's largest commercial jet. It's larger than all other wide-body jets, including those manufactured by Boeing. Airbus sought the need for a super-sized commercial jet, which prompted the aerospace company to begin designing the A380.
Airbus launched the A380 project in 2000, with production occurring just three years later. The A380 project had an estimated cost of $25 billion. In 2007, Singapore Airlines became the first commercial airline to use the A380. Since then, several other commercial airlines have ordered the super-sized jet from Airbus. Among Airbus's customers for the A380 include Qantas, Emirates, Malaysia Airlines, and Air France.
Why Airbus Has Stopped Making the A380
Being that the last-manufactured A380 recently performed its first flight, you might be wondering why Airbus no longer makes this jet. Ultimately, it boils down to sales. Even with its list of customers, Airbus has struggled to sell the A380. Most commercial airlines simply don't need a jet as big as the A380. And the commercial airlines that can benefit from the super-sized A380 don't need many units of them. Therefore, Airbus has experienced lackluster sales with the A380.
Another reason Airbus has stopped making the A380 is efficiency — or lack thereof. The A380 features four engines. When originally designed, it was one of the most energy-efficient jets on the market. Newer wide-body jets, though, have since switched to two engines. These two-engine jets are more efficient than the A380. They consume less fuel, making them preferred by commercial airlines.
Airbus might not manufacture the A380 anymore, but it will still provide maintenance services for those in use. Emirates, for instance, said that it will continue to use the A380 "unto the 2030s." Nonetheless, Airbus has stopped its A380 project. It will no longer manufacture the wide-body jet while shifting its operations towards smaller wide-body jets, instead.