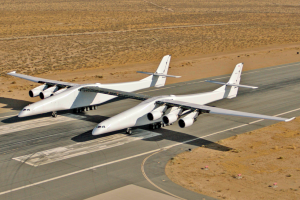 The world's largest airplane is gearing up to help test hypersonic airplanes. Earlier this month, the aerospace manufacturing startup Stratolaunch Systems announced plans to use its massively sized Stratolaunch airliner to deploy hypersonic airplanes. Stratolaunch will carry hypersonic airplanes, and upon achieving the desired speed and altitude, it will release them. To learn more about Stratolaunch and how it's paving the way for a new era of faster-than-sound airplanes, keep reading.
What Is Stratolaunch?
Stratolaunch is an airliner developed by Stratolaunch Systems that's designed to launch vehicles during flight. In December 2011, Stratolaunch Systems announced plans to build the massively sized airliner. In 2017, the startup had completed its first Stratolaunch airliner.
What's truly impressive about Stratolaunch is its size. Measuring 385 feet wing to wing, it's the world's largest airliner. To put its size into perspective, the second-largest airliner is the Hughes H-4 Hercules, which has a wingspan of just 320 feet. In addition to exceptionally large, though, Stratolaunch is also quite powerful. It's designed to carry a payload of up to 550,000 pounds, and it has an even higher maximum takeoff weight of 1.3 million pounds.
Stratolaunch to Deploy Hypersonic Airplanes
Now that Stratolaunch Systems has completed its Stratolaunch airliner, it's now planning to conduct tests involving hypersonic airplanes. Stratolaunch Systems says it will use Stratolaunch to deploy hypersonic airplanes for testing purposes. Once deployed, the hypersonic airplanes will fly up to five times faster than the speed of sound.
Hypersonic airplanes have become a hot topic in the aviation industry. Currently, however, they've been limited to private and government sectors. Stratolaunch Systems hopes to change this by testing hypersonic airplanes on behalf of commercial and academia organizations as well.
"Our hypersonic testbeds will serve as a catalyst in sparking a renaissance in hypersonic technologies for our government, the commercial sector, and academia," explained Stratolaunch Systems on its website.
There's been some skepticism regarding whether or not Stratolaunch would actually be used. In 2018, Stratolaunch was sold to a different company. The good news is that it appears the world's largest airplanes will take the skies in the near future. Stratolaunch Systems has several tests planned for Stratolaunch, one of which will involve a long-distance flight with the company's Talon-A hypersonic airplane. Stratolaunch will also test its Black Ice reusable hypersonic airplane with Stratolaunch. The company hasn't announced a date for these tests, but it's safe to assume they'll occur in the near future.