---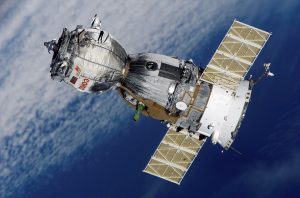 The American aerospace manufacturer and services company Space Exploration Technology Corporation, or what's more commonly known as SpaceX, has won a contract to launch a satellite for the United States Air Force.
When competing with United Launch Alliance, SpaceX ultimately came out on top as the winning bidder, for which it received a $96.5 million government contract. The contract entitles SpaceX to launch a Global Positioning III satellite from its launch pad at Cape Canaveral via a Falcon 9 rocket. The launch is expected to happen in February 2019.
Of course, this isn't the first time SpaceX has launched a satellite into Earth's orbit. Just last year, it won an $82.7 million contract to launch a separate GPS satellite.
This latest satellite launch for the United States Air Force involved two bidders: SpaceX and United Launch Alliance. SpaceX was announced the winning bidder earlier this month, with the commander of the Space and Missile Systems Center at Los Angeles Air Force Base releasing the following statement:
"The competitive award of the GPS III launch services contract to SpaceX directly supports SMC's mission of delivering resilient and affordable space capabilities to our Nation," said Lt. Gen. Samuel Greaves, commander of the Space and Missile Systems Center at Los Angeles Air Force Base.
Not everyone has been positive about the bidding process, however. ULA claimed that the process focused too much on the price and not enough on success rate and launch time. Nonetheless, both SpaceX and United Launch Alliance completed their bids, with SpaceX coming out as the winner.
In addition to its satellite launch business, SpaceX has been working to develop a new reusable launch system. The project begin in 2011, though it wasn't until 2016 when the company successfully returned one of its rockets back to the landing pad in a vertical landing. SpaceX hopes that that its reusable rockets will greatly reduce the cost of launches, as the rockets can simply be refueled and repaired for reuse.
In 2011, NASA awarded SpaceX a contract to develop a human-rated Dragon as part of its Commercial Crew Development (CCDev) project. This would essentially allow for improved transportation to the International Space Station (ISS). And just this last month, the company's CEO Elon Musk said he plans to send two tourists on a slingshot trip around the moon in 2018.