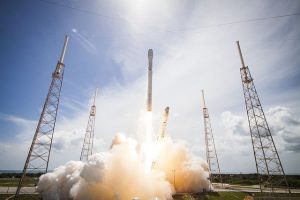 Space X's next launch is right around the corner. Earlier this month, the National Aeronautics and Space Administration (NASA) announced that the American aerospace company would send four astronauts to the International Space Station (ISS) on November 14. Known as the Crew-1 mission, it marks Space X's second manned mission involving the Crew Dragon capsule.
About the Crew-1 Mission
According to a press release issued by NASA, the Crew-1 mission will transport astronauts Shannon Walker, Victor Glover, Michael Hopkins and Soichi Noguchi to the ISS. Once aboard, the four astronauts will stay for a six-month period while performing various laboratory and analysis work.
This isn't the first time SpaceX has sent astronauts to the ISS. Earlier this year, SpaceX sent astronauts Bob Behnken and Doug Hurley to the ISS via its Crew Dragon capsule. Behnken and Hurley spend about two months about the ISS before returning to Earth.
"With the high cadence of missions SpaceX performs, it really gives us incredible insight into this commercial system and helps us make informed decisions about the status of our missions. The teams are actively working this finding on the engines, and we should be a lot smarter within the coming week," wrote NASA in a blog post about the upcoming Crew-1 mission.
Boeing to Compete With SpaceX
There's no denying the fact that SpaceX has a head-start in the private space industry. It's currently the only aerospace company, in fact, that's provided manned launch services for NASA. With that said, Boeing has been aggressively working to enter the market as well.
Boeing is currently developing a crew capsule similar to its SpaceX's counterpart. Known as the CST-100 Starliner, it will be used to transport astronauts to and from the ISS. Boeing performed a test flight of its CST-100 Starliner in 2020. After failing to reach the ISS, though, Boeing was forced to postpone its date of market entry. Boeing is now planning a second test for January 2021. If all goes well, it may use the CST-100 Starliner to send astronauts to the ISS later that same year. The arrival of Boeing's CST-100 Starliner means NASA will have another private space company at its disposal for manned missions.
Space X has had a busy year — and it still has more work planned for the remainder of 2020. On November 14, the American aerospace company will send four astronauts to the ISS aboard its Crew Dragon capsule.