---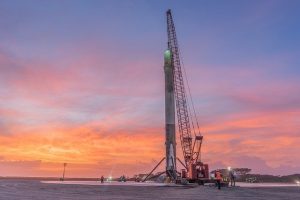 SpaceX has sent four additional astronauts to the International Space Station (ISS). Earlier this month, the private aerospace manufacturing company launched its reusable Crew Dragon capsule carrying four astronauts from Florida's coast to the ISS. After about a day of riding, the astronauts safely arrived and docked at the ISS.
Of course, this wasn't SpaceX's first manned mission. Elon Musks' company has sent astronauts to the ISS in the past. Nonetheless, SpaceX's recent successful flight to the ISS reinforced its commitment to working with the National Aeronautics and Space Administration (NASA) while helping it transport astronauts to and from the ISS.
The recent manned mission consisted of two NASA astronauts, Shane Kimbrough and Megan McArthur, a single Japan Aerospace Exploration Agency (JAXA) astronaut, Akihiko Hoshide, and a single European Space Agency (ESA) astronaut, Thomas Pesquet. After being strapped to the seats of the Crew Dragon capsule for about a day, the four astronauts safely arrived at the ISS.
When speaking about the mission, NASA administrator Steve Jurzck explained that it was exciting and visually stunning. "Watching a launch from Kennedy Space Center never gets old for me. I've watched many launches and watching a pre-dawn launch is especially exciting and just visually stunning," said NASA administrator Steve Jurczyk. "I could not be more proud of the team."
Like with many launches, though, SpaceX's recent manned mission to the ISS was initially delayed. SpaceX had planned the launch for Thursday morning, but due to weather, it postponed the launch for the following Friday morning. After receiving the U.S. Space Force's Weather Squadron forecasted a 95% chance of clear skies for Friday morning, SpaceX proceeded with the launch, which went smoothly and without any disruptions.
So, what do the astronauts plan to do now that they've arrived at the ISS? According to NASA, the four new astronauts will stay at the ISS for a period of about six months, during which they've conduct zero-gravity experiments as well as other work onboard the ISS.
With the four latest astronauts to arrive, the ISS now contains a total of 11 astronauts. This is the most astronauts the ISS has ever housed since its early inception. After the six-month mission, the four astronauts will return to Earth using the same Crew Dragon capsule that transported them to the ISS. The Crew Dragon is a reusable launch capsule developed by SpaceX. It features 16 thrusters and is capable of supporting up to four astronauts.