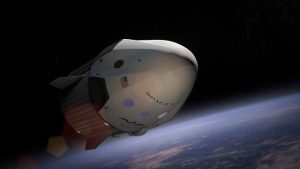 Thanks to SpaceX, there are now two NASA astronauts working aboard the International State Space (ISS). On May 30, the private aerospace manufacturing company successfully sent NASA astronauts to Bob Behnken and Doug Hurley to the ISS using its Crew Dragon Capsule. While SpaceX had tested the Crew Dragon capsule in the past, this was marked the first instance in which it was used to shuttle astronauts. As a result, SpaceX has demonstrated its ability to safely send astronauts into space, which could pave the way for future manned missions into and throughout our solar system.
NASA and SpaceX had originally planned to send Bob Behnken and Doug Hurley to the ISS on May 27. Due to the weather concerns, though, officials decided to postpone the launch. After experiencing clear and calm skies, SpaceX was able to resume the launch two days later.
The launch consisted of a cargo transport unit, known as the Crew Dragon capsule, as well as a rocket, known as the Falcon 9. The Crew Dragon Capsule is a variation of SpaceX's existing Dragon 2 capsule. The main difference between the two is that the Dragon 2 capsule is designed exclusively for cargo, whereas the Crew Dragon capsule supports both cargo and up to seven astronaut passengers. As a result, SpaceX was able to use the Crew Dragon capsule to send astronauts to the ISS from its launch facility in Florida.
The Crew Dragon capsule relies on propulsion from a Falcon 9 rocket to break through Earth's atmosphere and into the ISS's orbit. What's truly amazing about the Falcon 9 is its reusable properties. It doesn't fall back to Earth, after which it's disassembled or recycled. Rather, SpaceX has designed the Falcon 9 to gracefully return by landing upright. This design means SpaceX can reuse the Falcon 9 rocket in other missions.
The U.S. Federal Aviation Administration (FAA) responded to news of SpaceX's successful manned mission to the ISS by issuing the following statement: "I couldn't be prouder of the FAA's air traffic and space operations team who safely integrated this operation into our airspace with minimal disruption to other users," said the FAA's Steve Dickson.
Along with Boeing, SpaceX was awarded the contract to send astronauts to the ISS by NASA in 2017. Since then, both of the aerospace manufacturing companies have been working around the clock to design their respective crew capsule. Space, of course, has the Crew Dragon capsule, whereas Boeing is working on its CST-100 Starliner capsule.