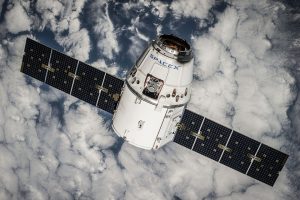 Both SpaceX and Boeing are planning to send astronauts to the International Space Station (ISS) within the next few months.
Last weekend, SpaceX launched its Dragon capsule to the ISS in preparation of the upcoming manned mission. First taking off in December 2010 with its maiden flight, the Dragon is a reusable pod-like spacecraft developed by the private aerospace manufacturing company SpaceX. It's launched using SpaceX's Falcon 9 rocket vehicle, which uses a two-stage approach to enter orbit. What's truly unique — as well as remarkable — about the Dragon, however, is that it's reusable. SpaceX says that by reusing the capsule, it can costs, thereby allowing the company to send payloads into the orbit at a lower cost than its competitors.
Up until now, SpaceX has only sent payloads consisting of equipment and supplies to the ISS; it hasn't sent astronauts. That's about to change, however, as both SpaceX as well as Boeing and planning to send a manned crew to the ISS. While some experts have been skeptical of whether SpaceX can achieve this goal, the company has demonstrated its ability to successful launch payloads into orbit in the past. Most recently, on March 2, SpaceX launched an unmanned Crew Dragon capsule to the ISS from its flagship launch pad at Cape Canaveral, Florida.
Shortly after SpaceX announced the successful launch of its Crew Dragon last week, Boeing CEO Dennis Muilenburg tweeted the following:
"Congratulations to @SpaceX on the launch of its first @Commercial_Crew Dragon. Human spaceflight is incredibly challenging, and we look forward to working together with @NASA and all its partners to keep the @Space_Station fully crewed for years to come."
SpaceX says that based on its current timeline, it should be able to launch the manned Dragon capsule to the ISS in July.
So, when is Boeing planning to launch its manned capsule? While Boeing hasn't officially announced a launch date, reports suggest the aerospace manufacturing giant may perform the launch either in the late July or early August.
As SpaceX and Boeing both compete to send their respective crews to the ISS, the two companies are spurring a newfound interest in space exploration and research. NASA, for example, could hire SpaceX and/or Boeing to send American astronauts to the ISS. NASA has currently been relying on Russia to ferry astronauts to and from the ISS. If SpaceX and Boeing are successful, however, NASA could choose one of these private aerospace companies instead.