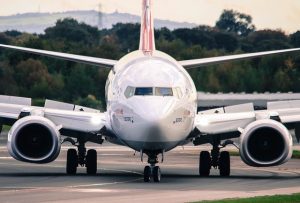 Boeing may soon have a new customer for its 737 MAX. Earlier this month, Southwest Airlines revealed that it was discussing the potential purchase of 30 737 MAX jets. Assuming the deal that goes through, it would be a huge win for the U.S. aerospace manufacturing giant.
About the 737 MAX
As the fourth generation of Boeing's 737 Next Generation (NG) family, the 737 MAX has some major upgrades compared to its predecessors. It's available in four variants, including the MAX 7, MAX 8, MAX 9 and MAX 10. Depending on the variant, it can support anywhere 138 to 204 seats.
With its new and improved body, as well as new engine options, the 737 MAX is more efficient than the NG. One report found that the 737 MAX was up to 14% more fuel efficient than the NG. For commercial airlines, this makes it an attractive choice for cutting the costs of flights.
Grounding of the 737 MAX
The 737 MAX, of course, has been grounded since 2019 following a series of incidents. Since then, Boeing has been working to get the 737 recertfied. Recertification isn't an easy process. It requires thorough testing and optimization to ensure the 737 MAX is safe. Only after getting the 737 MAX recertfied can airlines can use it in their respective fleets. Fortunately, Boeing appears to be making the final touches on its 737 MAX.
In a statement with Reuters, the U.S. Federal Aviation Administration's (FAA's) Steve Dickson said that the 737 MAX is close to being finished. Recertification, in fact, could happen within the next two weeks. Once the 737 MAX is recertified, commercial airlines will finally be able to use it again.
Southwest Airlines May Buy 30 737 MAX Jets
While nothing has been set in stone, Southwest Airlines says it may purchase up to 30 737 MAX jets from Boeing. "Although we have nothing new to share today regarding fleet plans, we've publicly shared that Southwest is currently working with Boeing to refresh our order book," said a spokesperson for Southwest Airlines in a press release.
It's important to note that any 737 MAX jets purchased by Southwest Airlines would be used to replace other jets already ordered by Southwest Airlines. Southwest Airlines simply wants to upgrade its ordered jets to one or more of the 737 MAX variants.
With recertification on the horizon, the 737 MAX is once again attracting the attention of commercial airlines, one of which being Southwest Airlines. Southwest Airlines may purchase up to 30 737 MAX jets from the U.S. aerospace manufacturing giant.