---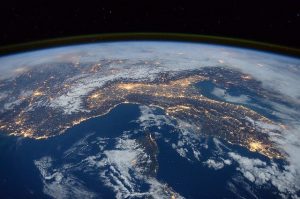 NASA is expecting to save some serious dough thanks to its partnerships with SpaceX and Boeing. The government-run space agency recently announced that the partnerships will save it an estimated $20 billion to $30 billion — along with other benefits.
In recent years, NASA has relied on foreign countries to shuffle American astronauts to and from the Internal Space Station (ISS). You might be surprised to learn, in fact, that NASA hasn't performed a manned launch in nearly a decade. Rather, it's used the services of foreign countries specifically Russia, to transport astronauts to and from the ISS.
Foreign countries don't offer their space-commuting services for free, however. NASA has been paying a premium price, which is why it's been eager to partner with private companies based in the United States. NASA has partnered with both SpaceX and Boeing to help break free from its dependence with foreign countries — a move NASA says will save it up to $30 billion.
Around 2010, NASA awarded contracts to Boeing and SpaceX to design and construct capsules, as well as rockets, for it to use in manned missions. NASA intends to use the capsules and rockets to send astronauts to the ISS and, later, the moon. It has even revealed bolder ambitions of sending astronauts to the Red Planet in the not-too-distant future.
Known as the Commercial Crew project, NASA awarded SpaceX with a little over $3 billion and its Boeing counterpart with about $4.8 billion. The project is expected to take over a decade to complete, but the two companies are making headway. SpaceX has already designed its capsule, known as the Crew Dragon capsule, which will safely house astronauts as they are rocketed into space. Boeing is also working on its capsule, the Starliner.
When speaking about the partnerships, NASA director Pil McAlister explained that the Commercial Crew project with SpaceX and Boeing is expected to save the organization an estimated $20 billion to $30 billion. "While not done yet, [NASA] is poised to save the Agency approximately $20B-$30B, and provide two, independent crew transportation systems," explained NASA director Phil McAlister.
When will SpaceX and Boeing take astronauts into space on behalf of NASA? That event may be right around the corner. SpaceX is actually aiming for a May 27 launch of its Crew Dragon capsule. Boeing, unfortunately, hasn't set a date for its Starliner capsule, but it too may not be far off. As the two private aerospace companies offer a new way for NASA to send its astronauts into space, NASA will ultimately save big money.