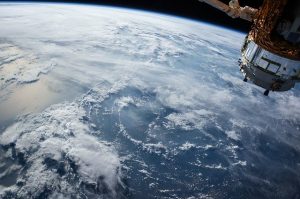 The National Aeronautics and Space Administration (NASA) has renewed its partnership with Boeing to provide services involving International Space Station (ISS) missions. In July 2020, the U.S.-based aerospace manufacturing company announced plans to support NASA's ISS missions through 2024. With a projected value of over $900 million, it's a huge accomplishment for Boeing that will likely prove equally beneficial for NASA.
About Boeing's Partnership With NASA
Boeing has been working with NASA for decades. During the 1990s, Boeing helped build components for the ISS on behalf of NASA. In the years to follow, Boeing has continued to provide ISS-related services to NASA. It's built various components for the ISS while also providing support and maintenance for those and other components. It's safe to assume that NASA has been satisfied with Boeing's service, as the space agency just renewed its partnership with Boeing.
Under the newly renewed contract, Boeing will provide NASA with a wide range of services related to its ISS missions. The contract has a total value of over $900, which translates into roughly $225 million per year. Through 2024, Boeing will provide ISS-related services to NASA. The aerospace manufacturing company will work closely with NASA to ensure that all its ISS missions are a success.
What's Next for Boeing and NASA?
Reports show that Boeing will provide most of its contract work at the Lydon B. Johnson Space Center as well as the John F. Kennedy Space Center. At these locations, Boeing will work on ISS components for NASA.
Boeing and NASA have a long and rich history of working together. Boeing has provided services to NASA for decades. It even helped NASA build some of the components for the ISS during the mid-1990s. More recently, Boeing and NASA performed a test flight of the aerospace manufacturing company's CST-100 Starliner spacecraft. The Starliner, of course, is a reusable crew capsule that Boeing is developing to send astronauts to and from the ISS. It's part of NASA's Commercial Crew Program, which is a separate project undertaken by the space agency
The latest contract involving ISS services is sure to give Boeing a helpful boost. Boeing has experienced several setbacks in recent years, the most problematic being the grounding of its 737 MAX airliner. Although it's been working around the clock to get the 737 MAX recertified, the airliner is still currently out of commission. The good news is that Boeing now has a $900 million contract with NASA to help fund its operations.