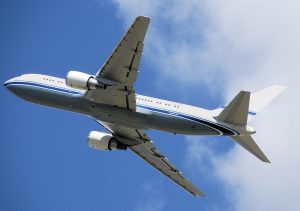 It appears that Boeing won't revive its 767 airliner.
Some aviation experts had predicted that Boeing would bring back the once-popular wide-body jet airliner due to the current void in the mid-market aircraft (MMA) market. In the latter half of 2017, reports emerged that suggested Boeing would resume production of the 767 airliner, manufacturing just enough units to hold airline companies over until it releases its next MMA aircraft.  United Airlines had already expressed interest in purchasing 767 airlines if Boeing resumed production on the now-dated jet. Dennis Muilenburg, Boeing's chief executive officer, also said there was strong interest for the 767 in commercial aviation as well as military and freighter applications.
More recently, though, Boeing's Randy Tinseth explained that there's little to no chance of the 767 being revived. "Bringing back the 767 passenger airplane – I just don't see it," said Randy Tinseth, vice-president of marketing at Boeing Commercial Airplanes, when speaking to reporters at an aviation conference in California earlier this month.
Originally introduced September 1981, the 767 is a mid- and long-range twin-engine airliner manufactured by Boeing Commercial Airplanes. In 1982, United Airlines became the first airline to use the 767 in its fleet. And throughout the 1990s, the 767 was ranked as the most popular airliner for transatlantic flights connecting North America to Europe. Since then, the 767 has continued to dominate the skies, with Boeing producing more than 1,100 units. Boeing stopping producing the passenger versions of the 767, however, once its successor, the 787, Dreamliner, was launched in 2011. Boeing still produces non-passenger versions of the 767, but those units are sold to commercial airlines.
So, why doesn't Boeing want to resume production of the 767? While the company didn't provide a specific reason, it's safe to assume that it's currently working on its next-generation MMA, which is expected to launch around 2025. Although details of Boeing's upcoming MMA remain sparse, reports indicate that it will seat between 220 and 270 passengers, with a range of approximately 5,000 nautical miles. To put those numbers into perspective, the 767 has a seating capacity of 181 and 375 passengers and a range of approximately 3,850 to 6,385 nautical miles.
While it's still many years away from being launched, several major airlines have already expressed interest in purchasing Boeing's new MMA, including American Airlines, Delta Air Linea and United Airlines. Of course, Airbus will likely prove to be a direct competitor of Boeing's new MMA by launching its A321LR later this year.
The bottom line is that the Boeing 767 isn't returning to the skies. With Boeing focusing its resources towards its next-generation MMA, the chances of it returning are slim to none.