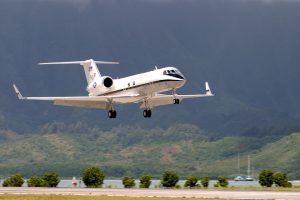 The Israeli startup company Eviation has unveiled the world's first all-electric passenger airplane. Known simply as Alice, it was presented to spectators and reporters at the annual Paris Air Show. While Alice looks like an ordinary propeller-driven airplane, it doesn't run on conventional fuel. It's entirely electric, with its propellers being powered by a rechargeable battery bank.
It's no secret that conventional airplanes produce emissions. Statistics show that a conventional airplane produces about 53 pounds of carbon dioxide per mile of flight. Considering that a commercial flight ranges from about 400 to 1,000 miles on average, the results are clear: Airplanes produce a significant amount of emissions. To help clear up the skies, as well as the planet, Eviation has developed Alice.
Alice is said to support two pilots as well as nine passengers. And while it doesn't rely on jet fuel, it's still capable of flying for up to 650 miles at a speed of 276 miles per hour.

It's also worth mentioning that Alice costs less to manufacture than similar-sized airplanes. According to Eviation, Alice is about 50% cheaper to manufacture than competing airplanes. And with lower manufacturing costs, Eviation can sell Alice to airlines and other customers at a lower price. As a result, it should be an attractive choice for potential customers.
When speaking about Alice, Eviation's CEO explained that it was developed around the passenger experience. The startup company wanted to provide the best possible flight experience for passengers. "This plane was built first and foremost for the passenger's flight experience," said Eviation CEO Omer Bar-Yohay during an interview with news reports. "We planned and designed the plane around that."
According to Eviation, the company will develop two variants of Alice. The first variant will be used for air taxi operations, whereas the second variant will support longer-range flights. The taxi variant uses lithium-ion batteries, and Eviation says it's developing a prototype that's scheduled to take to the skies later this year. The second variant, on the other hand, will take a little longer for Eviation to develop. Eviation says the longer-range Alice variant will feature an aluminum-air battery that produces electricity through a chemical reaction that occurs when aluminum is exposed to oxygen. While more expensive, this variant is expected to have a maximum flight distance of approximately 738 miles.
Other aviation companies are also working on an all-electric airplane. However, Eviation appears to have developed the world's first functional model.
Eviation is expected to launch Alice in 2021 to 2022.