---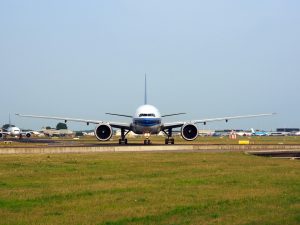 The 777x is the latest series of Boeing's signature 777 family. It consists of several variants, including the 777-8, the 777-9, the 777-10 and the BBJ 777X. All of these variants are part of the 777x series, which are wide-body airplanes designed by Boeing. While the 777x is still new, however, there's a rich history behind this series of wide-body airplanes.
Origins of the 777x
Boeing began exploring a new 777 series in 2011. At the time, Airbus dominated the wide-body airplane industry with its A350series. Boeing saw the need for an alternative that was capable of competing with the A350 series, so it began developing the 777x series.
Engine Selection
During the early stages of the 777x's development, Boeing explored several engine options, including Rolls-Royce, General Electric and Pratt & Whitney engines. Boeing selected the General Electric GE9x engine for its new 777 series. The GE9X is the largest engine fan made by General Electric.
Production
Boeing developed an entirely new factory to produce the 777x series. Construction of the factory began in 2014. Located in St. Louis, it's over 360,000 square feet. Boeing has since used this factory to produce 777x airplanes. The massive factory houses all of the machines and tools needed to build and assemble the 777x's parts.
Test Flights
While it didn't happen overnight, Boeing eventually produced the first unit of the 777x series. In 2020, the initial 777x airplane performed a test flight over Seattle. The test flight lasted for nearly four hours, during which no problems occurred. The 777x airplane performed a second test flight just a few months later during that same year.
Certification
Following the successful test flights, Boeing began to seek certification for the 777x series. In 2021, the Boeing produced two more units. It has originally planned for certification by the end of 2021. The pandemic, however, delayed its certification plans. So, when will the 777x series be certified? While no date is set in stone, Boeing says certification could happen within the next year.
In Conclusion
The 777x is a new series of wide-body airplanes designed and manufactured by Boeing. On the company's website, Boeing says it will be the biggest and most fuel efficient twin-engine airplane on the market. It has a range of up to 8,730 nautical miles and can accommodate up to 384 passengers. Boeing began the 777x series project back in 2011. Since then, it's been working around the clock to complete the 777x airplanes and get them certified for delivery.