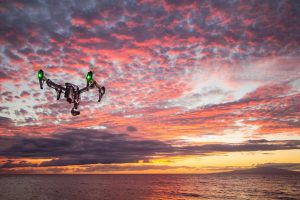 The U.S. Federal Aviation Administration (FAA) has announced plans to begin testing its near-real-time authorization processing system for drones beginning around the beginning of May.
The FAA's Dan Elwell unveiled the new processing system tat the annual UAS Symposium earlier this month, saying it will help drone operators receive authorization for operating their unmanned aircraft systems (UAS). Of course, not all UAS operators need authorization to fly their drones. Authorization is only required when the operator flies his or her drone in airspace that's restricted or otherwise controlled, such as the airspace around airports.
The drone industry has continued to grow larger with each passing month. In response to the ever-growing drone market, the FAA adopted new rules requiring all operators of drones weighing more than .55 pounds and less than 55 pounds to register their drone with the FAA, after which they must mark or otherwise identify their drone with the respective registration number. Operators can register their drone either online or using the FAA's legacy paper-based registration process. Either way, U.S. laws require operators to register their drones, regardless of where they intend to fly them.
To put the popularity of drones into perspective, a recent report published by CNN suggests that operators have registered more than 770,000 drones since the FAA first adopted the rule. Unfortunately, this has led to concerns regarding potential mid-air collisions of drones with manned aircraft. To reduce the risk of incident, the FAA is testing a near-real-time authorization system known as the Low Altitude Authorization and Notification Capability (LAANC) at various air traffic facilities. The general idea is to test the system's ability to automate the process of data sharing for authorization purposes. The near-real-time authorization processing system lives up to its namesake by providing drone operators with authorization almost instantly.
"The FAA is dedicated to ensuring drones are able to operate safely in the same airspace with manned aircraft. The LAANC capability offers industry the opportunity to work with the agency as we develop a UAS traffic management system. Companies approved to provide LAANC Services are known as Approved UAS Service Suppliers," wrote the FAA on its website.
The FAA first launched its LAANC system in November 2017 at select air traffic facilities. Starting May 2018, however, it plans to roll the system out to some 300 air traffic facilities spanning approximately 500 U.S. airports. The FAA says the final deployment of its LAANC system will occur on September 13, 2018.