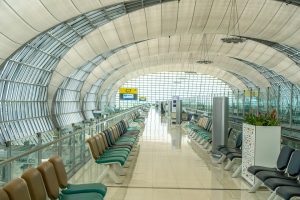 While the exact number fluctuates, there are currently roughly 15,000 active airports throughout the United States — a number that doesn't account for the countless unpaved runways. As more and more people fly, either for business or leisure, the country needs more airports to accommodate travelers. It looks like the Federal Aviation Administration (FAA) is stepping up to the plate by funding grants for airport development projects.
Earlier this month, the FAA announced that it was awarding $619 million in grants to help develop airports throughout the United States. So, how will this money be used? Like other grants, it's intended for a specific purpose. In this case, the grants are intended to be used exclusively for airport development projects. The FAA says that it will offer more than 240 grants to 226 of the nation's airports, with a cumulative grant value of approximately $619 million. The money is expected to be used for everything from developing new taxiways and runways to building new aircraft rescue machines, fire-fighting equipment and more.
Hartsfield-Jackson Atlanta International Airport, the world's busiest airport that sees more than 100 million passengers each year, has been awarded a $17 million grant by the FAA for the development of a 4,200-foot taxiway. However, that's just one of many U.S. airports that's expected to receive additional funding from the FAA. The Sioux Gateway Airport in Iowa has been awarded a $13 million grant to redevelop a dilapidated runway.

According to Elaine Chao, the FAA has been investing heavily in the U.S.'s airport infrastructure. And not only will this benefit travelers; it will also benefit the economy. Using this money, airports can launch new development projects that require labor. Therefore, the grants will create new jobs and stimulate the U.S. economy in the process.
"The department has been investing heavily in our nation's airport infrastructure, which will strengthen economic growth and create jobs in communities across the country," said Department of Transportation (USDOT) Secretary Elaine Chao when discussing the new FAA-backed grants.
It's also worth noting that the new grants will create a safer environment for both pilots and passengers. Like any infrastructure, airports need regular maintenance and repairs. Otherwise, problems like cracked runways may result in an accident.
This isn't the first time that the FAA has offered airport development grants. On the contrary, this is actually the fourth round of grants offered for this purpose. Considering that this recent round of grant is $619 million, though, it will likely have a substantial, positive impact on the country's airport infrastructure.