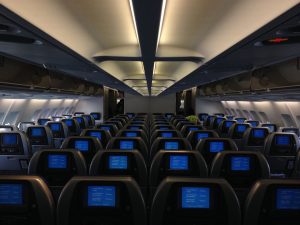 Do you feel crammed with flying aboard commercial airplanes? Well, you aren't alone. In recent years, commercial airlines have been gradually reducing the amount of leg space in their cabins. It's become such a problem, in fact, that the U.S. Federal Aviation Administration (FAA) is now worried that passengers aboard some airplanes may struggle to quickly evacuate in the event of an emergency.
This has prompted the FAA to conduct a study on whether passengers can evacuate commercial airplanes in a timely manner. The study will take place in November, during which the FAA will recruit over 700 men and women to perform mock evacuations.
The FAA currently requires all commercial airlines operating in the United States to have a 90-second or faster evacuation plan. In other words, passengers should be able to make their way from their seat to a nearby exit in just one-and-a-half minutes. Of course, 90 seconds isn't much time when dozens or even hundreds of other passengers are trying to exit the airplane all at once. Nonetheless, time is of the essence during an emergency. And if it takes longer than 90 seconds for passengers to exit, it could lead to serious injury or death during an emergency.
In November, the FAA will test to see exactly how long it takes passengers to evacuate and exit commercial airplanes. When speaking about the upcoming test, FAA's Dan Elwell explained that increasing rates of obesity, combined with the ever-shrinking leg space in airplane cabins, has raised concerns regarding the FAA's existing 90-second evacuation rule.
"Americans are getting bigger and seat size is important but it has to be looked at in the context of safety," said FAA Deputy Administrator Dan Elwell when speaking at a House of Representatives hearing earlier this month. "We are going to get you an answer on seat pitch."
Just how much leg space do commercial airplanes have? It really depending on the specific airline. Research shows Spirit ranks at the bottom in terms of leg space. The average Spirit airplane has just 29 inches of leg space. Other commercial airlines that rank low on the list include Frontier with 28 inches and Allegiant with 30 inches. Delta and American Airlines, on the other hand, rank at the top of the list with over 31 inches of leg space. In just a few months, the FAA will assess whether passengers have enough space to quickly evacuate commercial airplanes during an emergency.