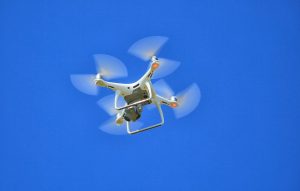 The U.S. Federal Aviation Administration (FAA) has launched a new automated system to handle airspace requests from drone operators. Also known as unmanned aerial vehicles (UAVs), drones have become a common concern among aviation officials. According to the FAA, more than 7 million drones will be flying over U.S. skies by 2020. As drones become more common, the risk of collision with a manned aircraft increases.
To reduce the risk of collision, the FAA requires drone operators to seek approval to fly a drone over protected airspace, such as the airspace surrounding an airport. In the past, the FAA handled these requests manually, resulting in long approval times. Unfortunately, for many drone operators, the long approval times prevented them from accomplishing their goals, such as filming a movie or TV scene. In an effort to streamline the process, the FAA has launched an automated system to handle airspace requests from drone operators.
Known as the Low Altitude Authorization and Notification Capability (LAANC), it's designed to provide authorizations for airspace more quickly. According to a press release by the FAA, LAANC can provide authorizations in near real time. The system works in conjunction with UAS data, allowing it to share data with private entities outside of the FAA. When speaking about the system, the FAA's Dan Elwell explained that processing authorizations used to take weeks but now takes just seconds. LAANC is still in the early stages of being rolled out, however, with the FAA expecting more than 300 air traffic facilities throughout the country to support the system by the end of the year.
Even if a drone operator doesn't intend to fly his or her drone around an airport, he or she may still need to obtain authorization from the FAA. When flying a drone under 400 feet, for instance, the operator must receive authorization from the FAA, regardless of location. Even if it's in the operator's own backyard, he or she must still receive authorization when flying a drone under 400 feet.
"The FAA will issue waivers/authorizations to certain requirements of Part 107 if an applicant demonstrates they can fly safely under the waiver without endangering people or property on the ground or in the air. The FAA will strive to review and issue decisions on waiver/authorization requests within 90 days," wrote the FAA on its website.
The FAA's new LAANC could prove invaluable to professional drone operators. Furthermore, it will allow the FAA to collect key data on drones on their location, thus providing a safer airspace for millions of flight travelers.