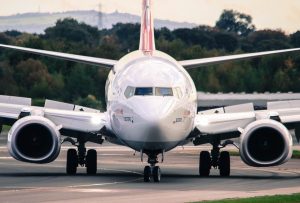 The Boeing 737 MAX may soon return to the skies. Earlier this month, the U.S. Federal Aviation Administration (FAA) released a list of proposed changes for the grounded airliner. Known as an airworthiness directive (AD), the list of proposed changes are designed to make the 737 MAX safer and, therefore, fit for service.
It's been over a year since the 737 MAX took flight. In March 2019, FAA regulators grounded the airliner following a series of crashes. Since then, airlines have been forced to remove the 737 MAX from service. That hasn't stopped Boeing from improving the grounded airliner, though. The American aerospace manufacturing company has been working around the clock, day in and day out, to fix the underlying problems that led to the 737 MAX's crashes in 2019.
To get the 737 MAX back in service, Boeing must pass certification for the grounded airliner. The FAA plans to assist Boeing through this process by providing a list of proposed changes. In its recently revealed AD, the FAA proposed that Boeing that should install new flight software in the 737 MAX. While the 737 MAX already uses flight software, the FAA believes that upgrading the flight software will make the airliner safer.
Basically, the FAA wants Boeing to use a new type of flight software that doesn't automatically trigger the Maneuvering Characteristics Augmentation System (MCAS) in response to a single failed sensor. The 737 MAX's current flight software triggers the MCAS for all failed sensors.
In addition to new flight software, the FAA has proposed that Boeing change the 737 MAX's horizontal stabilizer's wiring. The 737 MAX's current horizontal stabilizing wiring system is flawed, and FAA regulators believe that it may have contributed to the airline's collisions.
"Through a thorough, transparent, and inclusive process, the FAA has preliminarily determined that Boeing's proposed changes to the 737 MAX design, flightcrew procedures and maintenance procedures effectively mitigate the airplane-related safety issues that contributed to the Flight 610 and Flight 302 accidents," wrote the FAA in a summary review of the 737 MAX.
While neither Boeing nor the FAA have announced when, exactly, the 737 MAX will return to the service, it may not be too far off. Some aviation experts believe that the 737 MAX will fly again by the end of the year. Before that can happen, though, the 737 MAX must be recertified by the FAA, which includes a rigorous series of tests to ensure the airliner is safe.