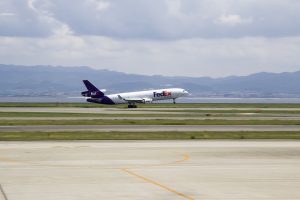 The U.S. Federal Aviation Administration has given FedEx permission to expand its delivery hub at Memphis International Airport (MEM).
In its proposed project plan, FedEx said it wants to demolish two dozen outdated buildings and construct new package-sorting and truck-loading facilities their place. The massive project is expected to cost a staggering $1.5 billion. FedEx first announced the MEM expansion project in January 2018. At the time, however, it didn't provide many details other that a budget and general overview. FedEx says it will provide more details about its MEM expansion project later this year.
Of course, anytime a company with a static presence at a major U.S. airport wants to upgrade or otherwise modify its operations, the FAA must first approve the project. The FAA scrutinizes the company's plans to ensure it won't have an adverse effect on other airlines or their passengers. And after reviewing FedEx's proposed MEM expansion project, it determined there was "no significant impact," thus giving the courier company the green light to move forward.
Since the beginning of this year, FedEx has applied for several building permits with an estimated value of $50 million at MEM. One of these building permits is for a new ramp, while others include additional gates and loading facilities. As explained by the FAA, however, FedEx may only begin work on non-historic buildings before a memorandum is signed.
"The FAA, the Memphis Shelby County Airport Authority and the Tennessee Historical Commission will sign a Memorandum of Agreement (MOA) that covers issues related to the historic structures that are part of the project. Work may begin on buildings that are not historic structures before the MOA is signed," said the FAA when discussing the courier company's expansion project.
According to Wikipedia, MEM is home to FedEx's Express global hub, where the courier company processes many of its packages for delivery. From here, FedEx runs nonstop flights to other states within the United States as well Canada, Europe, Asia, South America and the Middle East.
FexEx has become one of the world's largest courier companies, earning an estimated $60 billion in annual revenue. The company was founded in 1997, after which it began to grow and expand its operations. In 2013, Fortune magazine ranked FedEx as one of the top 100 companies for which to work. According to Fortune, FedEx offers voluntary buyouts to employees instead of firing or "letting them go." This latest project at MEM is just one more way that FedEx is increasing its presence in the courier services market.