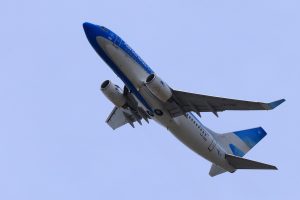 The U.S. Federal Aviation Administration (FAA) has given Boeing the green light to use folding wings in its  777-8 and 777-9 long-range, wide-body jets. Like other aerospace manufacturing companies, Boeing typically used fixed wings in its jets. On May 18, 2018, however, the FAA approved Boeing's proposal to use folding wings made of composite materials in the two aforementioned jets. So, why does Boeing want to use folding wings?
Sources say the new folding wings on the 777-8 and 777-9 will help Boeing comply with gate code regulations. The wings won't fold completely. Rather, they are designed so that only the tips will fold. When activated, the 777-8's and 777-9's wingtips will fold to reduce their width from 235 feet to 212 feet, allowing for enough clearance to comply with the FAA's gate code regulations.
Boeing has actually been working on the new folding wings for quite some time. The aerospace manufacturing giant opened a facility in Everett, Washington in October 2017 to specifically develop the new composite folding wings. Here, manufacturing teams use more than 400 miles of high-strength carbon fiber to produce the folding wings.
"Boeing will add folding wingtips to their Model 777-8 and 777-9 airplane wings to maintain Code E gate compatibility when folded during ground operations. This wing-folding feature will be operable on the ground only. Boeing has no plan to carry fuel in the folding sections of the wings," wrote the FAA in its final rule.
The FAA has a few requirements with with Boeing must comply in order to use the folding wings in its 777-8 and 777-9 jet, one of which is the use of an automatic warning system to prevent pilots from unknowingly lifting off while their wings are folded. If a pilot of a 777-8 and 777-9 jet attempts to lift off with the jet's wings still folded, this system will notify him or her to extend the winds.
The FAA also says that Boeing's new folding wings must be able to withstand strong winds in excess of 75 miles per hour. It's not uncommon for wind speeds to exceed this limit at high altitudes. But Boeing's new folding wings are designed specifically for use on the ground. Therefore, the FAA is only requiring Boeing's folding winds to withstand 75-mile-per-hour winds on the ground.
Boeing has experienced delays in the production of its 777x variants. However, the aerospace manufacturing company says the variants will be completed on schedule, with the first 777-9 entering service sometime in the first quarter of 2019.