---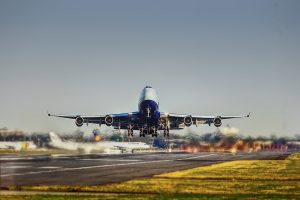 The Federal Aviation Administration (FAA) has been asked to consider rolling back some of its aviation safety rules. As explained by TheHill, the FAA's Aviation Rulemaking Advisory Board voted in favor of the report, which they say will help the FAA comply with President Trump's proposed changes to reduce federal regulations. So, which safety rules will be rolled back exactly, and how will this affect the aviation industry?
While there's still no final word on if these changes will occur, one of the most notable proposed changes involves the removal of pilot qualifications and required training hours. In 2009, pilot hour war responsible for a deadly air crash in New York. Following this incident, family members of the victims petitioned Congress to strengthen safety regulations for air carriers. In response to this petition, Congress increased the required number of flight training hours for officer pilots of commercial airlines to 1,500 hours.
Requiring commercial officer pilots to fly for 1,500 hours in order to obtain a license may seem like a good idea, but not everyone approves. On the contrary, some of the nation's biggest airlines have been fighting against the change, saying it creates a new barrier of difficulty to acquire pilots. The report published by the FAA's Aviation Rulemaking Advisory Board suggests dropping this requirement while allowing pilots with fewer than 1,500 hours to obtain a license if they receive academic training accreditation from the respective airline company.
Prior to the deadly 2009 airplane crash, airlines were allowed to hire officers with only 250 hours of flight experience. Keep in mind that officers are not necessarily capitals, however. In order to be a captain, the officer would still need to acquire a total of 1,500 hours of flight experience, which could be obtained while flying alongside the pilot. The crash changed this requirement, however.
Airlines are particularly pushing back against this proposed rule change. The Air Line Pilots Association International (ALPA), for instance, issued a statement in which it said that it opposed the change, and that pilot supply "remains strong."
Whenever changes are made to aviation safety rules, it has a rippling effect throughout the industry. One of the FAA's main tasks is to ensure the safety of pilots and passengers. By strengthening requirements, it can help to create safer flights. However, there's a fine line the FAA must balance to ensure that it does not disrupt the commercial airline industry as a whole.