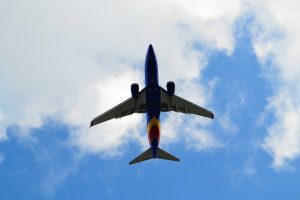 The U.S. Federal Aviation Administration (FAA) has approved a new variant of Boeing's 737 MAX 8200 jet. Known as the 737-8200, it's the latest addition of Boeing's long-running 737 MAX family. The 737 MAX, of course, had been grounded following a series of crashes. While Boeing received orders for its new 737-8200, one of which came from Ryanair, it hasn't been able to deliver — at least not until now. With the FAA's approval, Boeing can now begin delivering the 737-8200 to commercial airlines.
According to the FAA, the 737-8200 meets all the necessary requirements for the 737 MAX's ungrounding. When speaking about the FAA's decision to approve its new 737 MAX 8200 variant, Boeing said that it will "continue to work with global regulators to safely return the 737-8 and -9 to service. Our teams are also focused on ensuring future members of the 737 family meet all regulatory requirements."
Ryanair was one of the first airlines to purchase the 737-8200 from Boeing. In 2014, it ordered the new variant. And just last year, it placed an additional order for 75 units. Up until now, though, Boeing hasn't been able to deliver the 737-8200. Like all other variants in the family, it was grounded. Boeing has since been working closely with the FAA to get the 737-8200 recertified.
Of course, Boeing has many other jets in its 737 MAX, some of which include the 737 MAX 7, the 737 MAX 8, the 737 MAX 200, the 737 MAX 9 and the 737 MAX 10. The  737 MAX 8200 is simply one of the latest additions to the family of narrow-body jet airlines. The 737 MAX project has origins dating back to 2014, during which it began production on the first 737 MAX jets. Since then, it's gradually introduced other jets, including the new variant, to its 737 MAX damily.
In case this is your first time hearing about 737-8200, you might be wondering how it differs from other variants in the 737 MAX family. The 737-8200 is still a narrow-body jet airliner, and it's still part of Boeing's fourth-generation of 737s. With that said, the 737-8200 differs in several ways. For starters, it's capable of carrying more passengers. The 737-8200 has a maximum capacity of 210 passengers, which is more than 737 MAX 200's capacity of just 200 passengers.
Now that the FAA has recertified the 737-8200, Boeing can step up deliveries for its new variant. Boeing's customers, including Ryanair, are now able to receive the new variant, and they now operate them in their respective fleets. Recertification is a major win for Boeing, as it signals the beginning of a new era for the American aerospace manufacturing company.