---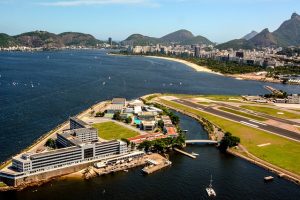 To say there are a lot of airports would be an understatement. In the United States, there are now over 5,200 publically accessible airports and over 14,000 private airports. While you can airports just about anywhere, many of them are located near water. Airports are often constructed specifically near a body of water, such as a lake or ocean. Why are so many airports located near water exactly?
Fewer Noise Complaints
Airports are oftentimes located near water to curb noise complaints. While flying at a cruising altitude of 32,000 feet or higher, commercial jets are relatively silent to people on the ground. In most cases, you can't hear commercial jets flying at this altitude if you are on the ground. Taking off and landing, though, is a different story.
When taking off and landing, airplanes will fly at a lower altitude, which can result is loud noise. Building airports near water creates a natural barrier between the jets and other people on the ground. The end result is fewer noise complaints. Water, of course, doesn't prevent airplanes from making noise. It simply consumes space that would otherwise be used for homes, businesses or other places with people.
Safety Purposes
While fewer noises complaints is one of the reasons why airports are oftentimes located near water, the main reason is safety. Commercial jets aren't foolproof. They can experience mechanical or electrical failure. Depending on the type failure, the pilot may not be able to correctly land or take off. A body of nearby water offers a backup solution.
Instead of guiding the airplane into a landside hill, building or other structure, pilots can guide it over the body of water. Most bodies of water that are adjacent to airports are designed to be shallow. The shallow waters provide a safer landing space in the event of emergencies. Pilots can glide the airplane over the shallow waters as an alternative to crashing it into a hill or building.
The Disadvantages of Building Airports Near Water
Building airports near water still has its disadvantages. Wind, for instance, is a concern. Wind gusts are usually stronger around bodies of water due to the lack of windbreaks. Landside hills can break the wind so that it has less of an impact on commercial jets. Airports near water, though often lack landside hills and other forms of windbreaks.