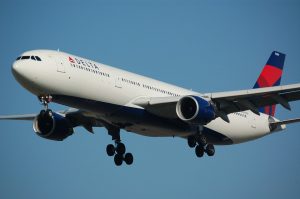 Delta Air Lines says it will purchase up to 200 Airbus A321neo jets as part of a massive $25 billion deal.
As explained by CNN, Delta will receive the first shipment of 100 jets in 2020. However, the deal also includes a clause allowing Delta to purchase an additional 100 jets.
Originally developed in the early-to-mid 1990s, the A321 is a member of Airbus' A320 class of narrow-body commercial twin-engine jets. According to Wikipedia, it supports up to 236 passengers and has a maximum range of approximately 3,200 miles. The A321neo, however, is a variation that features a "new engine option." The first A320neo flight occurred on September 25, 2014. Since its inception, 202 A320neo jets have been manufactured.
Additionally, the A321neo boasts a high fuel-efficiency rating. Delta explained that the new Airbus jets will consume roughly 40% less fuel per passenger than those in its fleet that it's expected to replace.
Furthermore, the A321 produces less noise than similar-sized jets. Reports indicate that it's about half as loud as the A320 at takeoff, creating a noise footprint of just 85 decibel, which is very quiet for a jet of its size. For these reasons and others, Delta is investing $25 billion to upgrade its fleet with the A321neo.
"This is the right transaction at the right time for our customers, our employees and our shareholders," said Delta CEO Ed Bastian. "Delta, Airbus and Pratt & Whitney share the same commitment to safety, efficiency, innovation and continuously improving the customer experience. This order for the state-of-the-art A321neo with Pratt's PurePower next-generation jet engines reflects our long-term commitment to these values for Delta people and all our constituents."
There's been some talk about Boeing receiving this order, but ultimately it appears that Delta has selected Airbus to deliver its new jets. The CNN article mentioned above cites trade disputes as being a primary driver for Delta's decision to choose Airbus over Boeing. According to CNN, Delta and Boeing are waging war over the purchase of the Canadian Bombardier C Series. Boeing says Delta is selling the jet at an unfair price. To further compound the issue, the U.S. Commerce Department is considering placing a 300% tariff on imported jets.
In wake of this news, Delta said it now expects its operating margins for the fourth quarter to be 11%. Prior to the deal, Delta said its operating margins would be between 11% and 13%. This new deal, however, has changed the Atlanta-based airline's outlook.
Delta has hired Pratt & Whitney to produce engines for its new 100 to 200 A321neo jets.