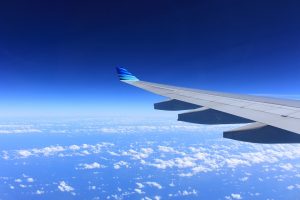 Two aerospace companies based in Colorado have joined forces to develop a new airplane.
XTI Aircraft Company announced earlier this month that it will work with By Aerospace to create a new gas/electric hybrid airplane.
This isn't just any ordinary hybrid plane, though. The two companies are looking to design a six-seat airplane that's capable of taking off and landing vertically, similar to a helicopter. Dubbed the "TriFan," it's a bold new idea that could prove revolutionary in how we travel. According to the two companies, the TriFan will be able to achieve an altitude of 35,000 feet in just ten minutes, while also taking off and landing vertically.
Of course, vertical takeoffs and landings open the doors to a whole new world of possibilities. The TriFan, for instance, could be used in otherwise small airstrips that lack the necessary space for traditional airplanes to take off and land. A typical commercial jetliner must reach 150-180 mph to take off and land. If the airstrip isn't long enough, it won't be able to reach these speeds and produce enough lift to rise. With the TriFan, however, this isn't an issue, as takeoff and landing is performed vertically instead of horizontally.
So, how does the TriFan work? The current prototype will feature three fans that produce roughly the same speed and range as a traditional small jet. In terms of speed, the two companies say the prototype will be able to achieve speeds in excess of 300 mph, which is pretty impressive to say the least.
It's also worth noting that the TriFan, when complete, is expected to be lighter, safer, quieter and cleaner than traditional jets, according to a statement released by XTI.
There's still no word on when exactly the prototype will be finished. However, the two companies say that the first prototype will be a full-size version of TriFan instead of the scaled down version that they were originally planning to make.
"We're continuing with our plan but we've made two important changes. First, with the engineering expertise of the team at Bye Aerospace, this first prototype will be powered by a state-of-the-art hybrid-electric propulsion system. Second, because we're now able to significantly reduce the weight and cost of producing the TriFan, our first prototype will be a full-size TriFan 600 instead of the 65 percent subscale version," said XTI CEO Robert LaBelle in a press statement.