---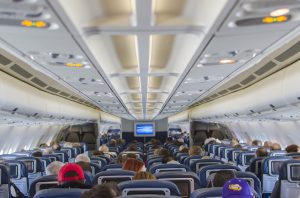 American aerospace giant Boeing predicts China will play a key role in the industry's future, investing nearly $1.1 trillion in new airplanes over the next 20 years. The investment will include the purchase of some 7,240 plans. In comparison, Boeing had previously predicted that China would purchase 6,810 new planes through 2035. So, what caused Boeing to change its forecast for China's aerospace industry?
According to a report published by Bloomberg, the new forecast comes amid rising trade disagreements between China and the United States as well as a "volatile geopolitical environment" on the Korean Peninsula. As tensions heat up, perhaps China is looking to secure a stronger footing in the aerospace market by investing in more airplanes. Of course, $1.1 trillion is a hefty investment, regardless of the reason or reasons behind it.
According to Boeing's Randy Tinseth, Chinese airline companies will begin to carry more passengers to and from China in an effort to increase market share and expand their respective fleets.
"We believe the Chinese carriers will carry more and more passengers to and from China so that they will grow their market share and as a result their fleet will expand," said Randy Tinseth, vice president of marketing at Boeing Commercial Airplanes.
It's also worth mentioning that China is one of the global leaders in tourism and traveling. In fact, statistics show that China currently ranks as the second largest tourism market. With travelers coming in and going out China, the country likely needs new airplanes to accommodate its tourism market.
So, what kind of airplanes does China intend to buy over the next two decades? According to Boeing, narrowbody airplanes will account for roughly three-quarters — or 5,420 — of its total purchases during the aforementioned period.
Of course, Boeing is currently in a heated battle with Airbus to sell airplanes to the China market. China Southern Airlines Co., one of the country's largest airline companies, has announced plans to buy more than 1,000 new airplanes by the end of the decade. Both Boeing and Airbus have expressed interest in this deal.
In addition to narrowbody airplanes, however, China will be adding other planes to its fleet. For instance, Boeing says that China will invest in 180 new cargo freighter, valued at $60 billion. These freighters will likely be used to transport cargo out of the China in response to the country's growing trade market. Additionally, China is expected to convert 440 passenger jets into freighters, further bolstering its trade efforts.