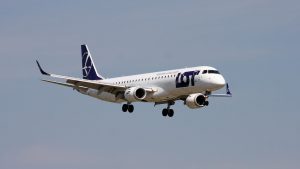 Boeing and Embraer can proceed with their planned joint venture. Earlier this month, federal officials with the Brazilian government approved the proposed joint venture between the two major aerospace companies. So, what's next for Boeing and Embraer?
About Boeing and Embraer's Joint Venture
Boeing and Embraer has proposed a joint venture that would allow Embraer to sell 80% of its commercial aviation business to its U.S.-based counterpart for $4.2 billion. The two companies had actually tried to follow through the joint venture last yeast. In December 2018, Embraer said that it would sell 80% of its commercial aviation business to Boeing for $4.2 billion. However, the deal required finalization from federal officials with the Brazilian government. It didn't happen overnight, but the Brazilian government has finally approved the joint venture, giving Boeing the green light to purchase 80% of Embraer's commercial aviation business for $4.2 billion.
Why Is Embraer Selling Such a Large Share of Its Business to Boeing?
Upon reading this, you might be wondering why Embraer is selling such a large share of its commercial aviation business to Boeing. After all, Embraer is a pretty successful aerospace company, with origins dating back to the late 1960s when it was founded by Ozires Silva in Brazil. Embraer even ranks as the third-largest manufacturer of civil aircraft in the world, surpassed only by Boeing and Airbus. Well, Embraer has struggled to compete with these two dominant competitors, partly because Boeing and Airbus sell so many aircraft to companies throughout the world. Embraer has tried to wedge itself in the aviation market by focusing on smaller aircraft while allowing Boeing and Airbus to dominate the market with larger aircraft. But even this hasn't proven to be effective, as Boeing and Airbus offer steep discounts on their larger aircraft to convince commercial airlines to purchase from them.
If you can't beat 'em, however, you may as well joint 'em — and that's the mentality behind Embraer's decision to sell 80% of its civil aviation business to Boeing. Embraer is hoping that the joint venture will allow it to push its new small- to medium-sized jets to commercial airlines. Specifically, Embraer has redesigned a class of commercial jets with 70 to 130 seats that it wants to sell to commercial airlines. While Boeing offers many larger jets, it doesn't have any in this size range. Therefore, the joint venture with Embraer could be beneficial for both companies.
Although the Brazilian government has given Embraer and Boeing the green light to proceed with the joint venture, the two companies still need approval from Embraer's stakeholders.