---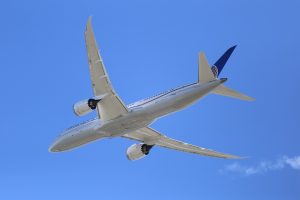 In June 2017, Boeing unveiled the first concept images of its upcoming new midsize jet. Described as being a "middle-market" jet, the 797 will come in variants: the B797-6 and the B797-7. The former will support up to 228 passengers and have the ability to travel 4,500 nautical miles, whereas the latter will support 267 passengers and have the ability to travel 4,100 nautical miles.
Unfortunately, Boeing has remained relatively quiet after first announcing the 797 at the Paris Air Show in 2017. Boeing confirmed that the upcoming midsize jet will be offered in the two aforementioned variants, and it also confirmed the seating capacity and range of those variants. It hasn't however, released many other details regarding the new 797. Nonetheless, several sources provide insight into Boeing's highly anticipated new midsize jet.
Bloomberg explains that Boeing has taken a different approach to designing the 797 than it has with previous generations of its midsize commercial airliners. The aerospace manufacturing company's newest jet, the 787 Dreamliner, was designed with an emphasis on distance. Boeing wanted the Dreamliner to be able to perform long-distance flights, connecting cities on opposite sides of the world together. While the upcoming 797 has a respectable travel range — between 4,100 and 4,500 nautical miles — Boeing is reportedly focuses less on distance and more on the jet's features.
According to Simple Flying, the 797 will feature a three-aisle layout in economy class seating consisting of a two-seat column, followed by a three-seat column in the middle and then another two-seat column. In first and business class seating, a two-aisle layout may be used.
The same report by Simple Flying also suggests that the 797 could fly up to 30,000 routes. This is partly due to the 797's fuel-efficient properties. Boeing has invested heavily into making its jets more fuel efficient. With the 797, it's now able to apply all these technologies to create a superior level of efficiency, which will allow the 797 to fly tens of thousands of new routes.
In terms of structural design, CNN reports that the wings and fuselage panels of the 797 will be made of carbon fiber composite materials. Boeing already uses these same materials in the Dreamliner, so it makes sense for the company to use them in its upcoming midsize jet as well. Carbon fiber composite is both strong and lightweight, making it ideal for use in aerospace manufacturing applications. It costs more than aluminum and steel, but Boeing likely has a surplus of these materials since it regularly uses them for the 787.