---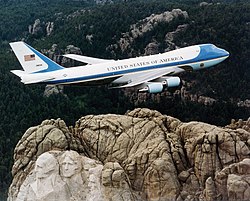 American multinational aerospace manufacturer Boeing has secured a $600 million federal contract to develop the next-generation Air Force One. The Chicago-based company was awarded the contract earlier this month, granting Boeing the right to create initial designs for the President's new aircraft. These preliminary designs will feature a mission control system, medical facility, power upgrades, self-defense systems and group operations. Boeing will implement these features into designs for existing 747-8 airliners, which are expected to serve as the next-generation Air Force One.
The Air Force One has roots dating back to the 1940s and 50s, during which President Harry S. Truman signed legislation for the National Security Act of 1947. While presidents prior to Truman had also traveled in airplanes, Truman's legislation focused on improving the features and aesthetics of the presidential plane. Among other things, the new plane featured a bald eagle graphic painted onto the plane's nose. This new design would later become officially known as the Air Force One.
Upon taking office, however, President Trump announced plans to upgrade the Air Force One aircraft. Trump's administration has currently been using the existing two VC-25A (747-200) aircraft. While still functional, those aircraft are approaching the end of their expected lifespan. This prompted President Trump and his administration to seek a new Air Force One Design. And not surprisingly, the $600 million contract was awarded to Boeing.
The contract allows Boeing and its vendors to complete a preliminary design for the next-generation Air Force One. However, there's no time table for when this design will be complete. The U.S. Air Force is expected to work closely with Boeing throughout this process to ensure that all features integrated according to plan.
"Following the award of the contract to purchase two commercial 747-8 aircraft, this contract award is the next major step forward toward ensuring an overall affordable program," said Maj. Gen. Duke Richardson, Presidential Airlift Recapitalization program executive officer.
Additionally, the U.S. Air Force is working alongside Boeing to develop a follow-up contract for modifying and upgrading the next-generation Air Force One. Dubbed the "Engineering and Manufacturing Development" contract, it's expected to be awarded in 2018. Once complete, the next-generation Air Force One will give the president of the United States and his or her administration a safe, reliable and affordable means of transportation and mission execution without being restricted to the ground.
What do you think of Boeing's plans to design the next-generation Air Force One?