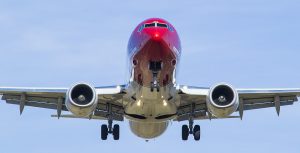 Boeing soared past its Airbus competitor in May of this year. It's no secret these two companies are some of the biggest players in the aerospace manufacturing industry. And while they've been neck and neck for a while, Boeing appears to have pulled away — at least in May.
Reports show that Boeing received 268 orders from January 2018 through May, including an order for 47 787 Dreamliners from American Airlines. This is important because American Airlines had previously intended to go with the Airbus A350. The commercial airliner canceled its order with Airbus, however, and instead opted for Boeing's 787 Dreamliner.
First taking off in December 2009, the 787 Dreamliner is a long-haul, mid-side jet with twin engines. Like many of Boeing's commercial airliners, it's available in several configurations, ranging from a 242-passenger capacity to 335-passenger capacity. What makes the 787 Dreamliner truly unique, though, is its construction. It's the first airliner with a frame made almost entirely of composite materials, thereby lowering its total weight. Of course, this is important because a lower weight equals improved fuel economy. According to reports, Boeing's 787 Dreamliner is approximately 20% more fuel efficient, thereby saving airlines money on fuel expenses.
In May alone, Boeing received 15 orders for its highly popular 787 Dreamliner, a half-dozen of which were from Quantas Airways. For more than year, Quantas Airways has flown a nonstop route from Perth to London with the 787-9.
So, why isn't Airbus experiencing this same level of success? With the unveiling of its A330 airline, Airbus has encountered a myriad of challenges, one of which is the high sales cost of its new jet. With a unit cost of around $240 million, many airlines simply aren't willing to spend that kind of money on a new jet. Furthermore, the A330 has been plagued with engine issues, leaving many airlines to seek an alternative — and that alternative is Boeing's 787 Dreamliner.
Another way in which Boeing has differentiated itself from its competitors is by focusing on reducing its environmental footprint. The company recently tweeted that it "beat our environmental targets in 2017! Today, we unveil bold, new goals to improve the company's operational footprint by 2025." As more airlines take a more proactive approach towards reducing their own environmental footprint, Boeing will probably continue to see an increasing number of orders.
Whether or not Boeing's success continues remains to be seen. However, it's safe to say that the Renton, Washington-based aerospace company is currently in the lead, thanks in part to its highly popular 787 Dreamliner.