---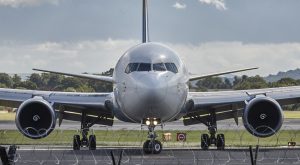 Boeing has signed a new memorandum of agreement with the aircraft manufacturer Triumph Group. Finalized earlier this month, the MOA aims to support Triumph's work with Boeing, specifically in regards to the construction of commercial aircraft and defense aircraft, as well as global services. The MOA expands Triumph's current roles in the industry beyond conventional aircraft, shifting it towards integrated services. To learn more about this agreement and how it will affect the two companies, keep reading.
When speaking about the MOA, Triumph president and CEO Dan Crowley explained that Boeing is one of his company's most important customers, and this new MOA seeks to expand the relationship between Boeing and Triumph. The MOA also reinforces the two companies' commitment for partnering for success.
Boeing Partnering for Success team leader Karl Jeppesen responded by saying that Boeing values the support of Triumph and looks forward to collaborating with Triumph in the future to reduce cost, increase productivity, and add value to the products and services offered by Boeing.
"Boeing is a very important customer, our largest, and we are pleased to expand our relationship with them through the delivery of high quality advanced structures, systems, precision components and MRO support," said Dan Crowley, Triumph president and CEO. "Building on improved schedule and quality performance on Boeing programs, this announcement reflects both companies' commitment to 'Partnering for Success.' It also reflects our strengthening OEM relationships, in which we are increasingly viewed as a valued partner across our entire range of capabilities."
Originally founded in 1993, Triumph Group is an international manufacturer and supplier of aerospace components. The company is currently based in Pennsylvania, where it offers products and services through three branches: Triumph Aerospace Systems Group, Triumph Aerostructures, and Triumph Aftermarket Services Group.
News of the MOA between Triumph and Boeing comes at a critical time, as Triumph recently said that it may seek insolvency for its Vought Aircraft. This led some industry analysts to believe Triumph was struggling financially. However, this new deal with Boeing has since eased these worries, as it signals a new era for the Pennsylvania-based aerospace supplier.