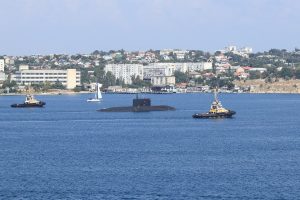 While most known for building commercial airliners like the 737, Boeing is a major player in underwater submersibles. In fact, it was just awarded a contract to develop four new autonomous submarines for the U.S. Navy. Under the agreement, Boeing will design and build four long-range, unmanned submarines using the company's existing Echo Voyager framework for $43 million.
The new submarines aren't completely autonomous. Rather, they are controlled from a remote location. Known as Unmanned Underwater Vehicles (UUVs), the submarines are expected to feature a 51-foot-long reinforced hull that's capable of diving to depths of up to 11,000 feet.  Of course, depths such as this place significant pressure on a submarine's hull, to Boeing must design its new UUV to withstand extreme pressure.
In addition to being 51 feet long, Boeing's new UUV is 8.5 feet the wide and 8.5 feet tall. These numbers pale in comparison to the size of other submarines, but Boeing's UUV is unique since it doesn't require a manned crew.
What's truly impressive about Boeing's UUV is that it's able to operate for "months" underwater. Boeing hasn't disclosed how long exactly its new UUV can stay below the surface, but even one month is pretty astounding. Part of the reason its able to stay submerged is that it doesn't require a manned crew. The UUV still needs a captain and crew, but sailors can control the submersible from a remote location, typically on land. Therefore, Boeing's UUV doesn't need to resupply as frequently as other submersibles or ships.
According to Boeing, the new UUV can "operate autonomously for months at a time thanks to a hybrid rechargeable power system and modular payload bay. The 51-foot-long vehicle is the latest innovation in Boeing's UUV family, joining the 32-foot Echo Seeker and the 18-foot Echo Ranger."
In an article about the new project, Popular Mechanics explains that Boeing's new UUV packs a rather spacious cargo bay. Its internal cargo bay is 34 feet long and capable of holding up to 8 tons. If that wasn't enough, Boeing's new UUV can carry cargo attached on the exterior of the hull. This makes Boeing's new UUV a convenient and efficient way to transport materials and loads underwater.
Boeing has developed submarines in the past, so it has the experience and infrastructure in place to make the UUV a reality. And while the Navy has only ordered four new UUVs from Boeing, it may place additional orders if the unmanned submersible is a success.