---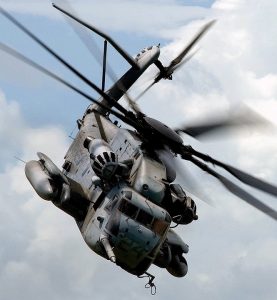 Boeing has just secured a new contract to produce the eight new CH-47F military helicopters. With a value of nearly a quarter of a million dollars, the contract will help the well-known aerospace giant secure its place as a leading manufacturer of air vehicles. The funds used to procure this deal, however, will come from the U.S. military's foreign sales fund.
The CH-47F is a Chinook-style military helicopter that features twin engines and a tandem rotor. While other military helicopters are designed for combat, the CH-47F is designed primarily for troop movement and real-time resupply. In terms of speed, it's one of the fastest helicopters in the air, boasting a top speed of 170 knots. Of course, the Chinook isn't a new helicopter style; it's been around for nearly a half a century, all while playing a key role in the U.S. military efforts.
But Boeing's eight new CH-47F military helicopters isn't going to be used by the U.S. military. Instead, the helicopters are intended to be sold to the Royal Saudi Land Forces Aviation Command (RSLFAC).
The new CH-47F military helicopter, however, is currently going through a modernization program, during which it will be upgraded with new features and technology to improve its performance on the battlefield. According to reports, this modernization program will ensure that the new design remains operational through at least 2030.
There's been strong demand for the CH-47F military helicopter, both domestically and internationally. Earlier this year, for instance, Turkey and the Netherlands placed an order for $14.3 million worth of parts to supply the new helicopter. This begs the question: why are countries choosing Boeing to produce the CH-47F helicopter over other aerospace companies? Well, it's no secret that Boeing is a leading player in military defense equipment, particularly in regards to aircraft. Along with its history and experience working on the CH-47F, this is probably why so many countries have selected Boeing over its competitors.
So, when is Boeing expected to deliver the eight new CH-47F military helicopters? Reports indicate that Boeing is aiming for a completion date of July 30, 2021. All work will be performed at Boeing's manufacturing facility in Ridley Township, PA.
While the CH-47F military helicopter is primarily used on the battlefield, it has other uses as well. Ever since it was first released, for instance, the CH-47F military helicopter has been used to carry out search and rescue missions as well as disaster relief.