---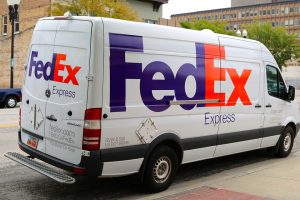 Boeing has secured a contract to provide FedEx with two dozen jets. According to various media reports, the aerospace manufacturing giant will manufacture and ship 12 medium-sized 767 jets and 12 large-sized 777 jets to the courier. Of course, these aren't your typical commercial airliners. Rather, they are freighter jets used primarily for shipping cargo across long distances. Nonetheless, news of Boeing's $6.6 billion contract with FedEx is a positive sign for the aerospace company, who's been in a heated battle with competitor for Airbus in recent months.
FedEx says it expects receive the one dozen 777 freighter jets around 2021 to 2025 and the one dozen 767 freighter jets around 2020 to 2022. While that may sound optimistic, Boeing has pledged to increase production of the latter jet, the 767, by 20 percent starting in 2020. The aerospace giant recently announced plans to produce three 767 freighter jets per month instead of two and a half (average). This won't happen, however, until 2020. But considering that Boeing now has a massive order lined up for FedEx, it's safe to assume that it will pursue, and achieve, this goal.
"We've added very few incremental planes along the years here,'' said FedEx's Chief Operating Officer David Bronczek. "On the other hand, if we continue to see strong growth like we're seeing now we could use them to add capacity.'
Of course, this isn't the first time that Boeing has sold its jets to FedEx. In December 2011, the aerospace giant announced plans to sell 27 767-300F jets to the courier company. This purchase was done so that FedEx could replace its aging DC-freighter jets with Boeing's newer and more efficient 767 freighters.  Just one year later, FedEx Express placed an order for 19 additional 767-300F units.
Boeing has also left its footprint on Amazon, which recently purchased 40 767 freighter jets to use in its air-based courier service. Assuming Boeing continues to focus on its 767 and 777 program, it will likely attract orders from other couriers.
This latest order means that Boeing has sold more than 50 freighter jets thus far in 2018. To put that number into perspective, it only sold 11 total last year.
So, what's next for Boeing in its race for aerospace domination? The company will likely continue to improve and market its 767 and 777 airliners. They are among the most popular jets on the market, used by courier companies like FedEx and airlines like Delta alike. Boeing's 767s and 777s are available in a variety of configurations, fuel efficient, spacious, reliable and, most importantly, worth the investment.