---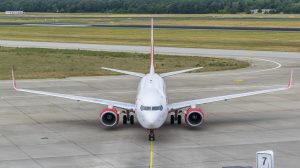 Boeing has just landed a massive contract with one of the largest carriers in the Middle East. Just last month, Qatar Airways announced plans to purchase six new aircraft from Boeing, a contract valued at $2.16 billion. The purchase order consists of two 747-8 jets and four passenger 777-300ERs.
Of course, Qatar Airways already has a substantial number of aircraft lined up in its hangars. Statistics show that Qatar Airways' current fleet consists of roughly 200 aircraft, nearly half of which are Boeing. Along with this recent purchase order for six new aircraft, the popular Middle Eastern carrier now has 100 additional Boeing aircraft waiting to be manufactured and delivered.
While Qatar Airways remains the leading commercial airline in the Middle East, it's gone through a recent downturn due to flight restrictions. In June, the airline was banned from flying to several neighboring countries, including Saudi Arabia, the United Arab Emirates, Egypt and Bahrain. These countries severed relations with Qatar while simultaneously blocking flights from the country. In a statement about the blockage, Qatar Airways' Akbar Al Baker explained that the blockage has had little impact on the airline's business.
"I'm pleased to tell you today that in fact the blockade has quite the opposite impact on our business to the one intended," said Qatar Airways Chief Executive Officer Akbar Al Baker. "Our adversaries thought they would bring us to our knees and we would capitulate, but this didn't happen. We are not studying any deferrals because Qatar Airways' aircraft orders are not all growth airplanes. They are also fleet replacement."
Boeing has increased production of its aircraft in recent years. One report found that Boeing has delivered nearly 3,500 commercial airplanes over the last five years. Nonetheless, Boeing has been working around the clock to try and extend the life its 747 passenger jet, which analysts say is approaching the end of its commercial life. The aerospace company had 20 unfilled orders for the 747 at the end of August, two of which were intended for Qatar Airways.
It's safe to say that Boeing is doing quite well, however. The commercial airplane manufacturer currently has more than 5,600 airplanes in its backlog, which analysts say will take nearly six years to fulfill. Furthermore, Boeing is working closely with the U.S. government to produce military aircraft. The Senate recently approved a $700 billion legislation for military activities both in the United States and abroad, some of which is being funneled to Boeing for aircraft.